Coronavirus Guidance for Students
Posted on 30th October 2020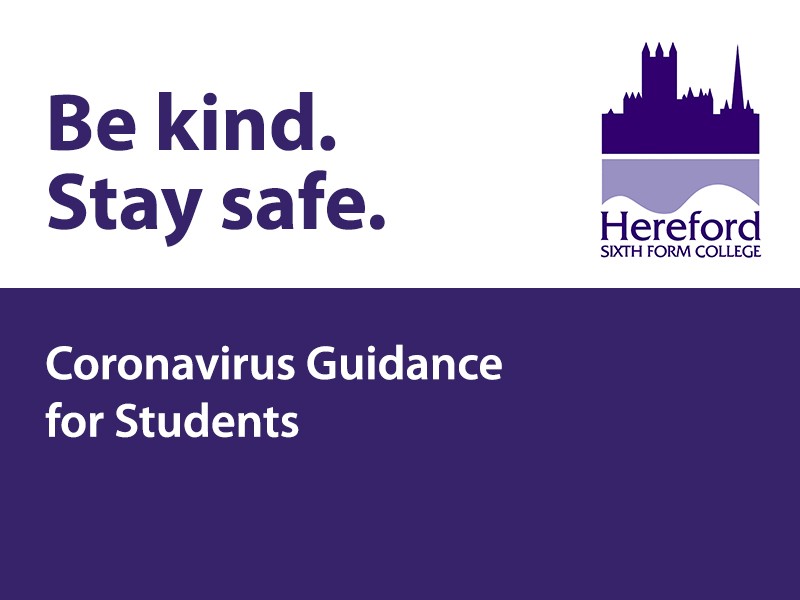 Be kind. Stay safe.
All students are asked to follow these guidelines when in college. Each of us have a responsibility to stop the spread of coronavirus.
Please regularly wash or sanitise hands. Please use sanitising stations when entering and exiting buildings.

Wear masks/face coverings when circulating around the College, in all communal areas, study areas, and in lessons if your teacher requests you to do so. Those who are exempt are not expected to wear face masks/coverings; please clearly display the provided sunflower lanyard.

Please do not congregate at the front of the College.

Go straight into classrooms and do not gather in corridors.

Toilet facilities are strictly accessible on a one in one out basis, hands should be sanitised on entry and exit.

Avoid being dropped off and picked up at the front of the College.

From November 9th 2020 you will not be permitted to smoke or vape on the College site.

When not in the classroom please observe social distancing and do not gather in groups of any size.

Please observe the one-way system and direction arrows throughout the College.

Do not enter the College if you are displaying symptoms (a new and continuous cough, high temperature, a loss of or change in sense of taste and smell). Please alert your Personal Tutor immediately.
For the latest Government guidance, click here.