College Welcomes Russian Academic
Posted on 29th November 2016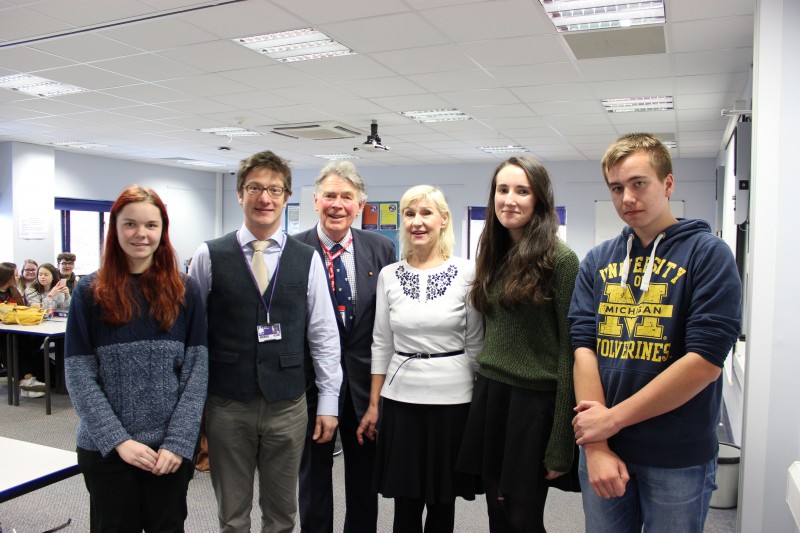 Hereford Sixth Form College continued its tradition of hosting figures from higher education with a second visit from Professor Ludmilla Selezneva. The leading academic is the United Nations Educational, Scientific and Cultural Organisation's Professor of Culture, Peace and Democracy at the Russian State University for Humanities in Moscow. Professor Selezneva is a well-recognised authority on 20th Century Russian history and politics, notably the Russian political movements and parties. Her speaking tours have taken her to universities, business conferences in the UK, USA, Canada and France where she has been enthusiastically received by both academic and civic audiences.
Her talk entitled Russia 2016: People and Leaders encompassed a broad spectrum of modern Russian history. Beginning at the fall of the Soviet block, Professor Selezneva explained how the economic collapse traumatised a society based on security and stability. She then progressed to the stages of economic renewal under President Putin. What was particularly interesting was how the cult of the strong leader deeply permeates Russian political culture - from the tsar, to Stalin and then elected Putin - and how large sections of the public see strength as a necessary virtue. She stressed that the economic renewal has been largely attributed to Putin's leadership and this has affected the political outlook of the population.
She moved onto the contrast of perceptions of Putin by the Western Media and perceptions of the West by Russian media. Her opinion was that citizens should be aware how easily perceptions are distorted through exaggeration and presentation of only part of the facts; indeed she saw failings in the media on both sides.
In response to student questions at the end of her talk, her message was positive; that nations should work together to resolve any differences through open communication. What unites us is always far greater than what divides us.
Our students were truly captivated by the wealth of knowledge and passion demonstrated by our visitor. Her ability to wind analysis together with anecdotes relating to ordinary lives was extraordinary. We were fortunate to host someone in such demand and hope to do so again in the future.
Marco Martinelli, Tutor of Government & Politics and Enrichment Co-ordinator