College Text Books Find New Home
Posted on 30th July 2019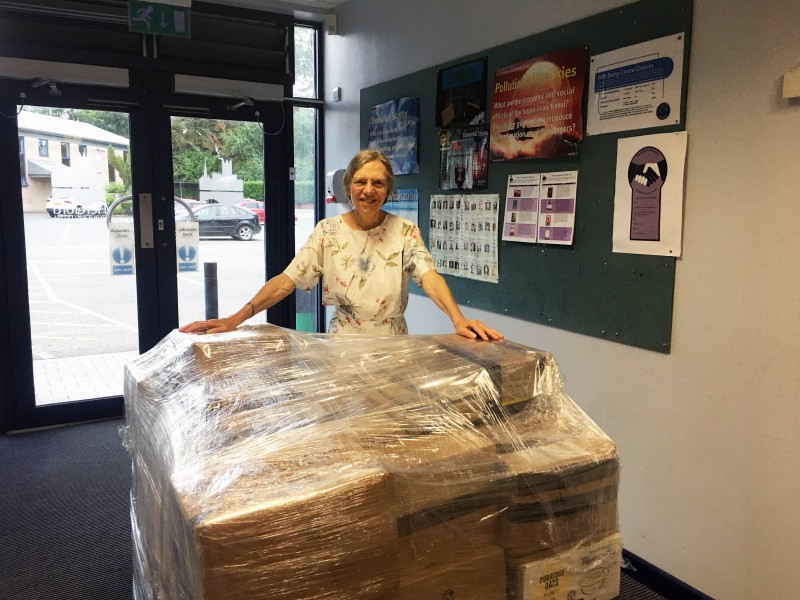 Last year, the College's A Level Mathematics syllabus changed due to a transfer to a different examination board, so a new home needed to be found for the old text books.
Mathematics Tutor, Ruth Stanier, was able to give one box of text books to a local school, but wanted to find a good home for the rest.
Ruth, having discovered the charity Books2Africa back in 2017, asked if they would take them, which they agreed to do.
Books2Africa collects a variety of books which would otherwise go to landfill, and distributes them to organisations which need them. The organisations choose books which are relevant to their needs.
Ruth said, "We had so many boxes of books - not only books for the Maths syllabus which has just ended but also for many previous syllabuses - that the best way to send them was to pack all the boxes onto a pallet. It costs £100 to send a pallet of boxes to Canterbury, where the books are sorted and sent to the organisations, mostly in West Africa, who have asked for books. The £100 was kindly raised by Maths students at the end of the summer term. In fact, they raised just over £100, so the extra money has been sent as a donation to Books2Africa as a contribution towards sending the books on their way to West Africa."
Ruth went on to say, "The boxes were not all the same size, and the College Estates team proved that they are brilliant at three dimensional puzzles, as they managed to get all the boxes stacked on to one pallet!"
The College is extremely grateful to Ruth for her efforts and the books are now winging their way to West Africa to help support someone else's education.