College Success at Senior Maths Challenge
Posted on 10th December 2015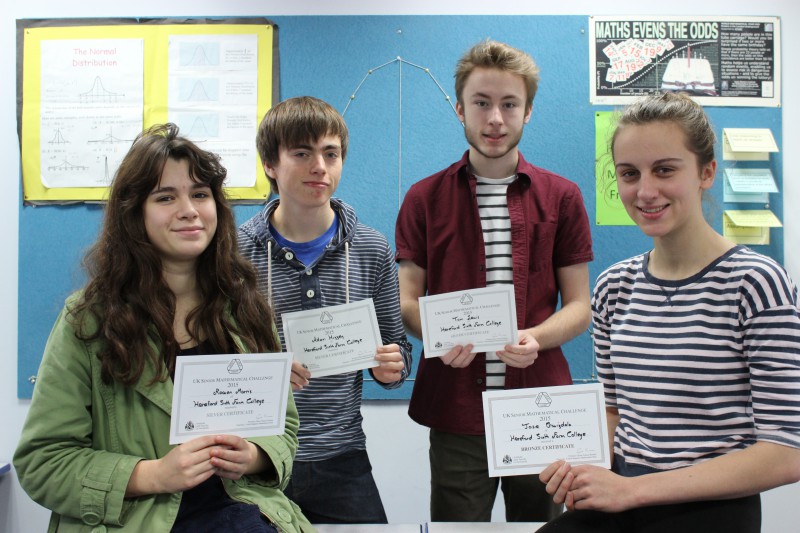 Students from Hereford Sixth Form College achieved 14 gold, 39 silver and 66 bronze awards in this year's UK Mathematics Trust Senior Maths Challenge.
Over 82,000 students from across the UK returned scripts for the Senior Maths Challenge with the top 10% receiving a gold certificate, the next 20% silver and the next 30% bronze.
Approximately 4,600 of the top students are invited to participate in round 2 of this challenge, the Senior Kangaroo. Hereford Sixth Form College had 9 students who qualified for this honour.
Gold Award + Senior Kangaroo Qualifiers
Oliver Bayliss, James Bennett, Teifion Best, Martin Catterall, Tara Dudhill, Megan Halpin, Matt Jones, Jonah McPartlin, Charlie Shave
Gold Award
Salma Abdallah, Iona Allan, Rhys Bale, Joe Colvin, Leo Schramm
Silver Award
Luke Baker, Patrick Bishop, James Bramley, Lewis Clarke, Luke Cohen, Gabe Cotton, Savannah Dixon, Louis Eastwood-Prater, Sacha Grabner, Patrick Hainge, Alex Harris, Harry Harris, Meg Harrison, Kieran Harte, Adam Hizzey, Rachel Holyfield, Oscar Howlett, Oliver Keeble, Bill Lee, Matt Lee-Watts, Tom Lewis, Joe Losh, Rowan Morris, Huw Nunn, Callum O'Grady, Paul Opalach, Joe Pepper, Phoebe Price, Katie Rawlins, Megan Shaw, Sam Spedding, Mike Spink, Matt Stephenson, Sam Sullivan, Tim Taylor, Will Thomson, Morgan Walters, Joel Waring, Josh Worgan
Bronze Award
Jamie Bates, Ben Beckingsale, Kim Best, James Black, Mitchell Bond, Joe Bootsma, Theo Brotherton-Ratcliffe, Danni Brunsdon, Scott Bunce, Ben Capener, Taliesin Chalkley, Jordan Chaplin, Owain Davies, Grace Davis, Ryan Dorn, Max Eckermann, Caitlin Eckley, Nia Gandhi, Rob Gordon, Josie Gwizdala, Joe Harman, Dominic Horwood, Joe Howells, Tom Howells, Aaron Hughes, David Hughes, Ben Hughes, Alice Humpage, Alexander Hunt, Sam Jenner, George Jones, Gavin Jones, Harry Kramer, Jed Lambert, Edward Martin, Jacob McCarthy, Loren Merrell, Harry Millikin, Sylvia Misztal, Tom Morley, Rashid M'Samri Stannard, Keah Munday, Jonathan Norris, Brandon O'Gorman, Joe Papworth, Alex Penning, Stephanie Price, Cameron Pugh, Jon Rees, James Riley, Adrian Roberts, Sascha Robinson, Ed Rumsey, Freya Segar, Karya Sipahi, Daniel Smart, Becky Stacey, Angharad Steer, Leah Stella, Holly Tatton, Jack Taylor, Sam Towle, Tom Willis, Matt Witucki, Eliza Woodhouse, Leo Zhou
Dr Alistaire Everett, Tutor of Mathematics