College Sponsors Red Boxes Across Hereford
Posted on 7th March 2019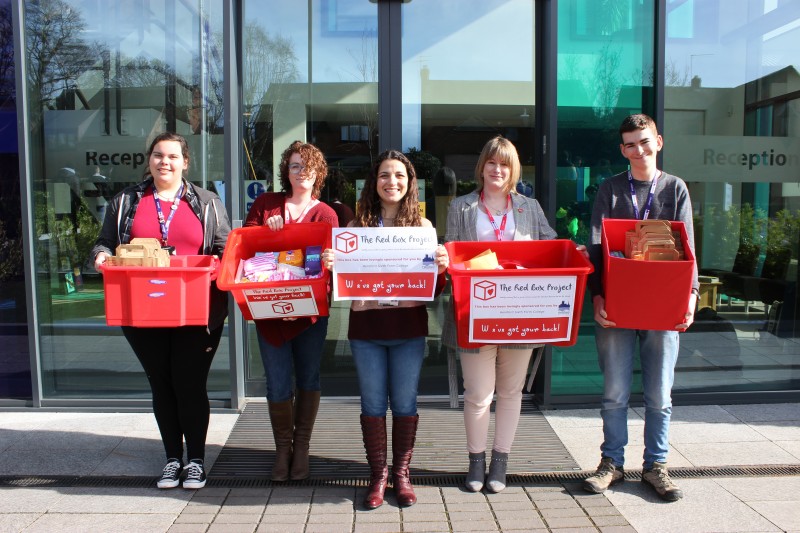 Staff and students at Hereford Sixth Form College have clubbed together to make a large donation to Hereford's Red Box Project, that will see them sponsoring Red Boxes in eight locations across the city, including the Bishop of Hereford's Bluecoat School, Wigmore School, the Cadets and the Aconbury Centre.
The Red Box Project is a charity set up to help #endperiodpoverty. It provides Red Boxes filled with free menstrual products, pants and tights, in schools and youth clubs where young people can access them without prejudice.
The charity has been championed by the College Christian Union and the Student Representative Council, who have been raising awareness and arranging fundraising activities to support the cause. Sam Marsh, who runs the Hereford branch of the Red Box Project, said "I am genuinely so moved by the support from Hereford Sixth Form College. Their donation will enable us to purchase and fill eight new boxes, and any remaining money will go towards replenishing key stock items."
Lana Silk, Chaplain at Hereford Sixth Form College said, "Friday, 8th March marks International Women's Day. With recent global movements championing the rights and freedom of women, there has never been a better time to raise awareness for issues that hold women back from living their lives to the full. At HSFC, the students were keen to do something practical to help their local community. The Red Box Project was an instant fit with its values for equality, and for education. We are delighted to be able to help."
Period Poverty is not confined to the third-world – a study among 14-21 year old girls and young women in the UK, found that 1 in 10 have been unable to afford sanitary protection; 49% have missed an entire day of school because of their period, of which 59% have made up a lie or an alternate excuse.*
Much has been done to campaign for the Government to provide funding for free menstrual products for schools and colleges across the country but in the meanwhile, the Red Box Project is encouraging everyone to donate items to fill Red Boxes up and down the country, in schools, youth clubs, libraries and church halls.
To find out more about the Red Box Project, visit Facebook: Red Box Project Hereford or Twitter: @RedBoxHereford.
E-mail: redboxprojecthereford@outlook.com if you know of a school, college or youth-oriented community project that would benefit from having a box, or if you would like to be a donation point.
*source: RBP, Plan International UK August 2017