College Model United Nations Team Triumphs at Malvern St James
Posted on 4th December 2015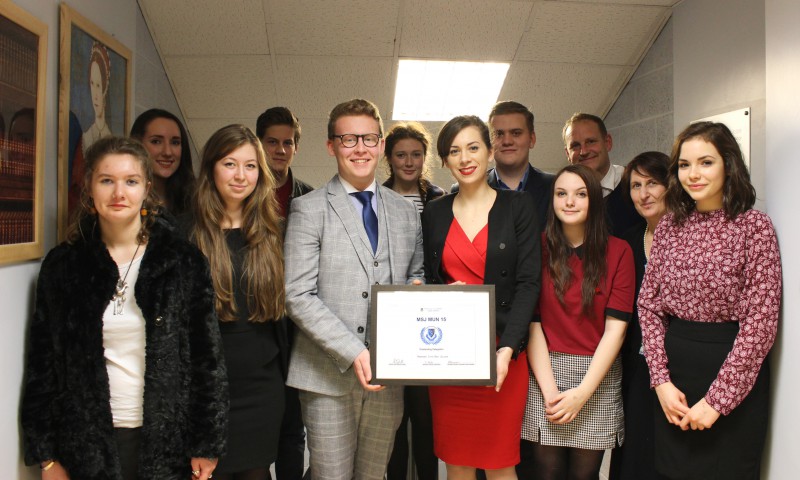 Having come third in their first ever competition at Magdalene College Oxford, last year, a team of 15 of the brightest and best students from Hereford Sixth Form College were victorious in the Model United Nations competition at Malvern St James College on Saturday 21st November.
Emerging not only with the Outstanding Delegation Team award, they also secured eight individual Outstanding, Highly Commended and Commended Delegate awards.
As the only representative of the state sector at the competition, they were competing against 12 public schools including Shrewsbury School and The Kings School, Worcester. Many of whom were veterans of these events but the Hereford squad ultimately ran out comfortable winners.
Model United Nations events are considered highly prestigious events and are very difficult to win as they require a combination of fully developed skills in public speaking, reasoned argument and debate, and the ability to persuade other delegates that their constructive solutions to issues of international politics are the most tenable in the cut and thrust of heated discussion on the assembly floor.
The team, formed from a core of history students, but including scientists, economists and literature students, ably demonstrated the full breadth of talent that exists in the College.
Marshalled with great skill once again by Holly Pickerell and Hannah Wills, who also guest chaired at the event, congratulations are due to the full squad, Benedict Allen, Will Aston, Natalie Cottrell, Sophie Finch, Alice Gent, Dan Hamblin, George Lawson, Abi Powell, Gabby Jonsberg-Holmes, Adam Perrett, Oliver Robinson, Georgina Morris-Davies, Cara Exall.
Individual Awards went to:
Benedict Allen – High Commended for Politics
Will Aston – Best Delegate for Economics and Environment
Natalie Cottrell – Commended for Health
Cara Exall – Commended for Human Rights
Sophie Finch – Highly Commended for Health
Dan Hamblin – Highly Commended for Economics and Environment
Abi Powell – Best Delegate for Human Rights
Oliver Robinson – Commended for Politics
David Christie, Tutor of History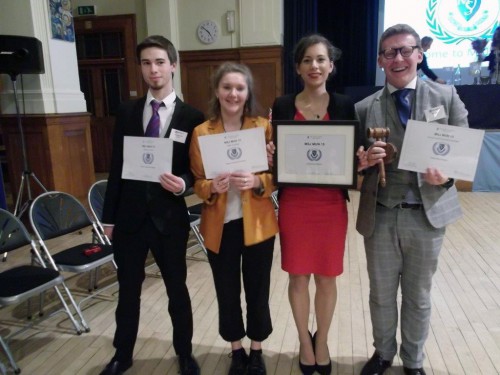 Some of the individual winners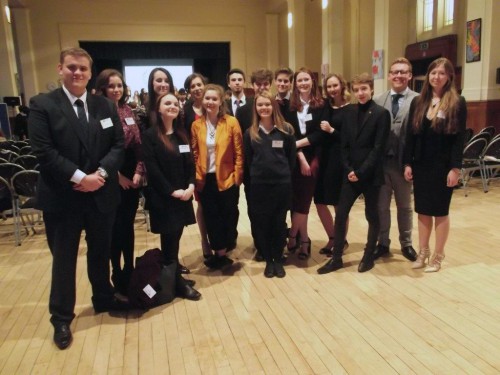 The winning team