College Life Continues through Lockdown
Posted on 15th June 2020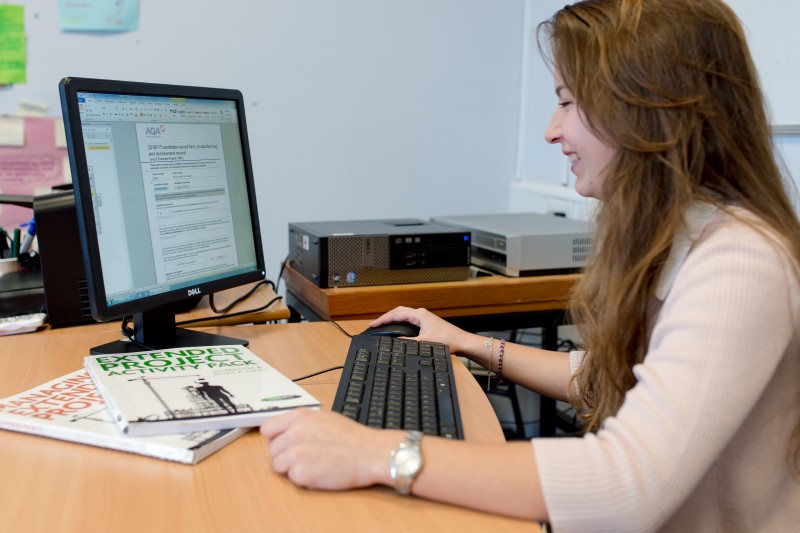 Hereford Sixth Form College has continued to provide an excellent education for students throughout the closure of the country's education institutions. This continued provision was made possible through the College's adoption of Microsoft Teams and the creativity and innovation of the College staff.
Peter Cooper, Principal of Hereford Sixth Form College, is extremely proud of the continued effort of both students and staff; "Given the unprecedented change in circumstances and environment caused by this appalling virus and its consequences, I am delighted by the exceptional efforts made by our students and staff. They have embraced new methods of working and shown determination to master new techniques. Whilst we have missed the wonderful social and active aspects of College life and anticipate the return to normality keenly, we have made huge strides to maintain academic learning and progress. College life will eventually return to normal but techniques we have developed to work in a more remote manner may well prove invaluable to improve our provision further. We are always looking to learn and strive for the best for our whole student body."
The well-being for all our students is paramount. In this current climate of lockdown, the challenges faced by students are many and diverse, ranging from anxiety, uncertainty and overwhelm, increased family issues, to loss and bereavement. The College counsellors, Bee and Louise, have been providing ongoing telephone counselling and support throughout. Our aim is to offer a listening ear, normalise the impact of these challenges, and explore strategies to help our students self-care.
Being physically active is essential to maintaining overall well-being in these difficult times. Our Physical Well-being Manger has provided weekly videos and offered 1-to-1 email support, aiming to improve our student's health and happiness at home. The videos include general well-being advice upon sleep, nutrition and ideas to keep in touch with friends as well as home workout ideas with limited equipment.
But has this affected the education of our students? We have spoken to a sample of students and found that all of them have had a positive experience with the transition to virtual learning.
"Since lockdown started, work has been set using Microsoft Teams. Using teams has been useful for quick and easy communication, which is vital for learning in this uncertain time… The Law department has put in special efforts to make sure we are happy with the current resources and answer all questions promptly." – Holly.
"By using Teams, I could attend live lessons following my usual college timetable, and it meant any question I wanted to ask my teachers I could do over the live lesson. If by any chance I couldn't attend the lesson, most of them were recorded and uploaded so I could watch them later… Any questions I had that I didn't get to mention, I could email to my teachers and all of them would get back to me quickly with the answers." – Abbey.
"My teacher does 'Check in Mondays' which is a great addition to our virtual learning experience as I feel this stops me feeling overwhelmed and able to keep up with work at a good pace." – Liv.
Many of the students we spoke to have found that working remotely has enhanced their learning and they have made excellent progress during this time.
"I feel I have progressed steadily in my subjects while learning remotely. The regular videos some of my teachers provide have made learning as easy as possible while I am at home. Videos are especially helpful when learning a new topic, as I can work at my own pace and replay the recording if I don't understand a topic" - Alfie.
"Having videos helps as I can pause whenever I need to jot down notes or re-watch parts I didn't quite understand the first time. Furthermore, my teachers have really thought out how the videos are made with some adding animations or utilising different spaces to use as a whiteboard! These work well as they are engaging and can be watched at any time of the day." – Liv.
"Teams has been fantastic for Foreign Languages conversation practice!" Isabelle Celie-Bone, Head of the Language department, told us. At the point of lockdown, Foreign Language Assistant, Benoit Rince, returned to France and has continued to teach students remotely; a perfect example of the dedication of College staff throughout lockdown.
The Head of the Music department, Jon Weller, commented on the adjustments his department faced during the transition to virtual learning. "Music is a sociable subject. Since we waved goodbye to our students in late March, academic lessons have taken place online, but the challenge has been there with practical music. Academia Musica have produced some virtual choral evensongs, with music recorded by individuals remotely. Students have practiced at home, some with remote 1:1 sessions with tutors. Many have submitted videos of them playing at home. Some have even used technology to produce videos of them accompanying themselves on the piano. Science suggests that live music will come back rather later than many other activities, but when it does, we are ready to launch ourselves back from the virtual world."
Students and staff alike have adapted excellently to this new learning environment, showing the resilience and passion for education that thrives at Hereford Sixth Form.
"I have learnt how to motivate myself and how to stay in positive in a time of worry. I have also learnt the college is well equip to support their students online and it's good to know there is a network of people here to support us!" – Phoebe.
"I have learnt that I can still work well during this time , it's also made me realise how important going to college every day and having an active routine is mentally as being stuck at home for 2 months can be hard to stay positive and not get stuck in a rut." – Ethan.
With the College opening its doors to students, we asked them how they felt about their return, and all were eager to return to a semblance of normality.
"Getting back to life after this will be a huge difference, and keeping the college environment a constant, known environment would be comforting and reassuring." – Phoebe.
"The great community spirit at Hereford Sixth Form … is something I have greatly missed working from home. As a student coming quite a distance from Wales, I was apprehensive about joining the College, but I am so glad I did because I have thoroughly enjoyed every minute." – Liv
The situation for September is still unclear, however the College will be fully operational, and students will continue to receive an outstanding education regardless of the current government advice on lockdown. We are planning for 3 different scenarios: complete lockdown, a blended learning environment, and normal operating mode. Throughout the academic year it is possible that we will have to move between these 3 operating systems. We will keep students as informed and up to date as possible and are fully set up to be able to switch between the operating systems quickly.