College "Legal Eagles" Host Judge
Posted on 23rd January 2017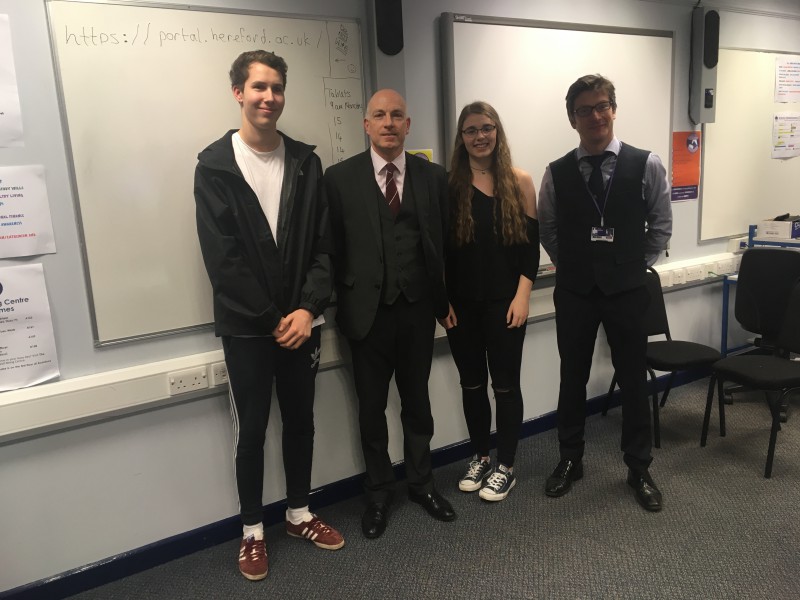 "Legal eagles" from the departments of Law and Government & Politics hosted the first ever Judge to the visit the College on Thursday, 19th January.
Deputy District Judge Wooderson delivered a talk The View from a Judge giving up to date advice on careers in the legal profession to budding solicitors and barristers.
Mr Wooderson began with a series of anecdotes and stories of how diverse each day in the legal profession can be, stressing that the role covers many different skills and aptitudes. He then moved on to giving his top tips on getting into a profession which is highly competitive at all levels - from university entry to attaining a first training post. The session concluded with questions from students.
Enrichment Co-ordinator, Marco Martinelli, stated "Hereford Sixth Form College has a strategic aim of building contacts in the professions, industry and academia to give our students a head start. The Law Department is notable in hosting a wide range of speakers and events such as mock trials, solicitors and mooting which ensures that students receive as much experience as possible. These events give a context far greater than a classroom experience, and really inspire students to achieve their goals. They were fascinated by Judge Wooderson and we look forward to hosting him again in the future."
Ed.