College hosts 2019 General Election Hustings
Posted on 2nd December 2019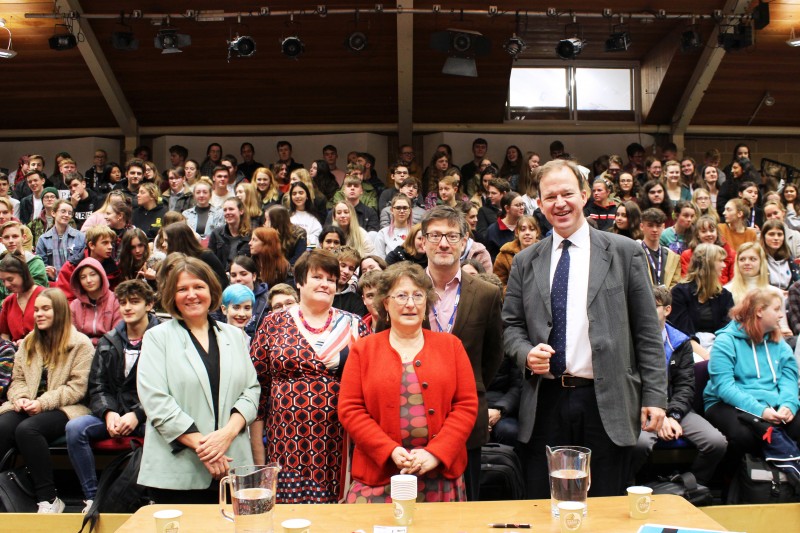 On Friday 29th november, Hereford Sixth Form College continued its established tradition of holding a hustings for both Herefordshire constituencies. Candidates from all the main parties were present; with Jesse Norman MP for the Conservatives, Anna Coda for Labour, Lucy Hurds for the Liberal Democrats and Ellie Chowns for the Green Party.
Such was the demand from students that the Performing Arts Centre was full to capacity with the anticipation for the event!
The event began with opening speeches from all candidates about why the public should vote for them; with a contrasting emphasis on both local and national issues.
The debate was focused on three main areas which could decide the UK election. The NHS, BREXIT and climate change. The NHS debate moved around the question of the extent of funding and protection against private deals in event of US trade deal. The BREXIT debate around several issues; breaking the parliamentary deadlock, on establishing a whether a second referendum would undermine of reinforce democracy after the first result. The third was on responses to climate change and the environment.; what should be done at national and international level with attention to how the great powers of China and India efforts should compare to the UK.
As an institution, Hereford Sixth Form College seeks to develop and encourage its students to follow their ideological beliefs within the British values of tolerance, the rule of law and liberty. When young people are often deemed to be apathetic or indifferent; Hereford Sixth Form College is very proud of its student's record of participation as active citizens in the wider community.