College Hosts 2017 General Election Hustings
Posted on 1st June 2017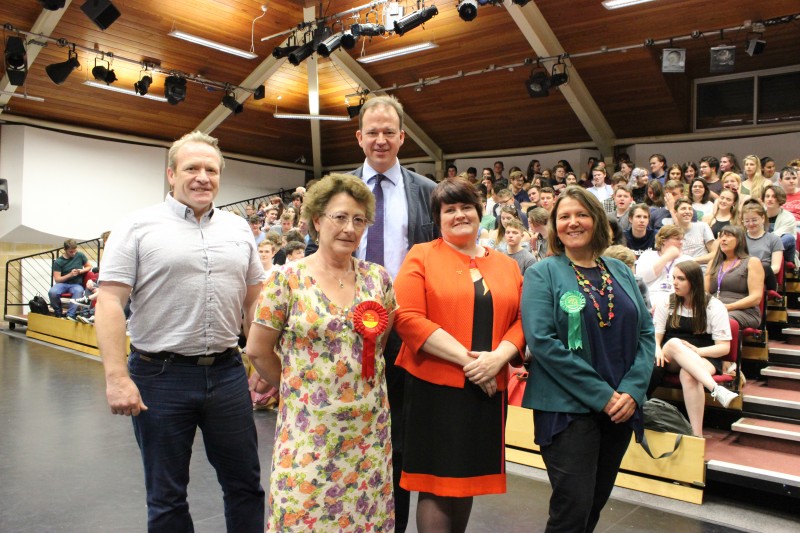 On 25th May, Hereford Sixth Form College followed the now established tradition of holding an official hustings for the candidates of the South Herefordshire constituency.
Sitting MP and government minister Jesse Norman sat on a panel with challenging candidates Lucy Hurds (Liberal Democrat), Anna Coda (Labour), ex-Mayor of Hereford, Jim Kenyon (Independent) and Ellie Chowns, Green candidate for North Herefordshire, who stood in for South Herefordshire's Diana Toynbee.
The auditorium of the Performing Arts Centre was packed with nearly 300 students who had prepared questions in advance for the topics of Education, Health/NHS and Defence. For nearly an hour, the candidates faced some tough probing questions from all sections of the political spectrum.
In an era of declining participation in elections, (with the lowest turnout between those in the 18-24 age group); the College certainly bucks the trend. This was the third official hustings in the last 12 years and an annual student election is held. The huge support from students shows real engagement with the wider world of politics.
On election day, 8th June, a number of politics students will be interviewed by BBC Radio Hereford & Worcester and others will be providing real time coverage in association with Herefordshire Live. We look forward to hearing their views.
Marco Martinelli, Enrichment Co-odinator