College Football Academy Coach to Play in Wembley Final
Posted on 24th March 2016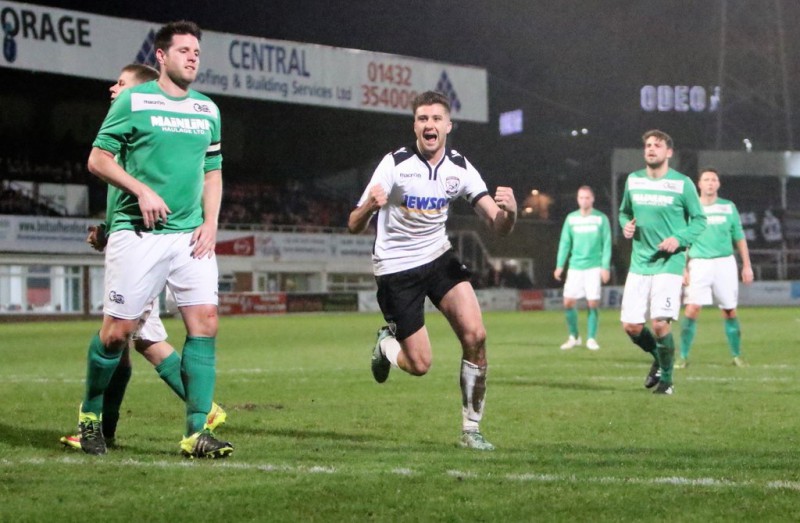 Huge congratulations to College Football Academy Coach, Joel Edwards, who will be leading out his side, Hereford FC, at the FA Vase Final at Wembley on 22nd May.
Local lad, Joel, has captained Hereford FC since its inception in 2015 following the demise of Hereford United the previous year.
Hereford United didn't manage to reach Wembley during its 90 year history so it makes it even more remarkable that the phoenix club, Hereford FC, has managed to get there during its first ever season.
Not only are they chasing promotion, they are still in two other cup competitions.
Joel is a fans favourite at Edgar Street as documented by a piece of footage that went viral where young mascot, Loghan Jones, followed Joel's every move during a pre-match warm up.
He's also proving to be an inspiration to the College's Football Academy students.
Head of the Football Academy, Matt Phillips, said, "Joel is in his third season with the Football Academy and he's proving to be a real asset. He's an obvious role model for the students because of the standard he plays at and also the way he conducts himself in every situation. His coaching has improved enormously and he's been very influential in the boys' rise up the league during an unbeaten 2016. If he continues to improve, there is every chance he will break into the Football Academy staff five-a-side team. Good luck at Wembley Joely."
Joel Edwards gives his reaction on getting to Wembley

Sarah Phipps, a Hereford FC fan who also coaches with the Football Academy, said, " This time last year we didn't even have a football club to support, so it was unimaginable to think that we would now be planning a trip to Wembley. It's a dream come true for everybody to do with Hereford FC, especially after everything that's happened at the club in recent years. It's a pleasure to also work with Joel, who is a role model to a lot of our football academy students, and we look forward to seeing him lead his side at England's National stadium."
One final footnote, Hereford United Apprentices used to train at Hereford Sixth Form College. They included Jarrod Bowen, who now plays professionally for Hull City, Dylan Bonella, Max Kontic-Coveney and Joe Tumelty who are all in the Hereford FC squad. It was Joe Tumelty's goal that sealed Hereford's victory against Salisbury putting them through to the Final.
Congratulations to Joel and Hereford Sixth Form College's class of 2012/13.