College Celebrates 14 Oxbridge Offers
Posted on 6th February 2015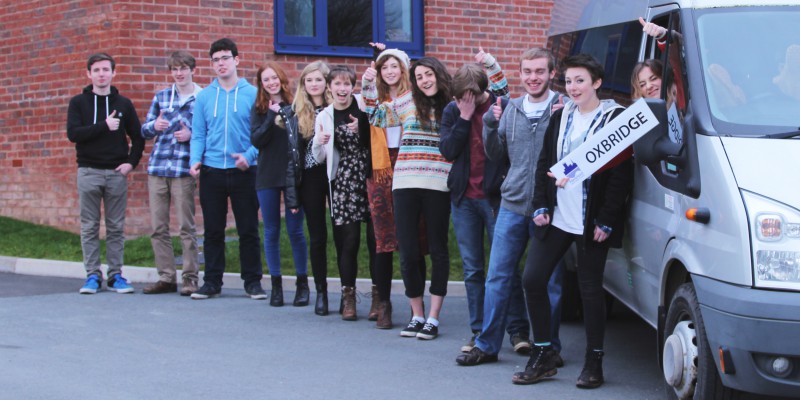 14 Hereford Sixth Form College students have received offers to study at the universities of Oxford and Cambridge.
The subjects range from Science to Chinese and include Mathematics, Economics, History, Philosophy and Languages, reflecting the breadth of academic excellence at the College.
Alice Coppock, currently taking a gap year, received an offer from Newnham College, Cambridge to read Natural Science. Alice said, "To have got into such a prestigious university seems unbelievable to have achieved and I am very proud. Hereford Sixth Form College really supported me through the application process twice and developed my academic abilities. The teachers were amazing and helped me finally to meet my potential."
The College has extremely strong links with Oxford and Cambridge and provides a full extra-curricular and enrichment programme to enhance student applications to the most selective universities.
Principal, Jonathan Godfrey, said, "I am delighted that the hard work of staff and students has been rewarded by these offers. Our co-ordinator of programmes for the most able, Caroline Baylis, provides a huge range of support – visits from Oxford and Cambridge dons, a programme of extension seminars, mock interviews and advice sessions which maximise our students chances to succeed."
Among those helping with mock interviews are Dr Ken Hopkins (Chair of Governors) and James Miller (ex Head of Newcastle Grammar School). Dr Hopkins said, "I am always hugely impressed by the quality of candidates we interview and the way they have been supported by the College."
Students accepted by Cambridge are:
William Ager (ex Kingstone High School) Engineering, Thea Arch (ex Hereford Cathedral School) Human, Social and Political Science, Alice Coppock (ex Lady Hawkins School) Natural Science, Imogen Knox (ex Wigmore School) Anglo Saxon, Norse and Celtic, Ruby Kwong (ex Haberdashers School for Girls) English, James Martin (Kingstone High School) Music, Dan Westoby (ex Bishop of Hereford's Bluecoat School) Mathematics and Elinor Williams (ex Gwernyfed High School) Human, Social and Political Science
Students accepted by Oxford are:
Dominic Fawcett (ex St Mary's RC High School) Mathematics, Katie Harman (ex Fairfield High School) History, Sam Johnson (ex Bishop of Hereford Bluecoat School) Mathematics and Philosophy, Amy Layton
(ex Bishop of Hereford Bluecoat School) Modern Languages, Hugo Sansome (Hereford Cathedral School) Chinese and Gillian Wright (Chase High School) Economics and Mathematics