College Celebrates 100th Gold Duke of Edinburgh's Award Success
Posted on 14th June 2017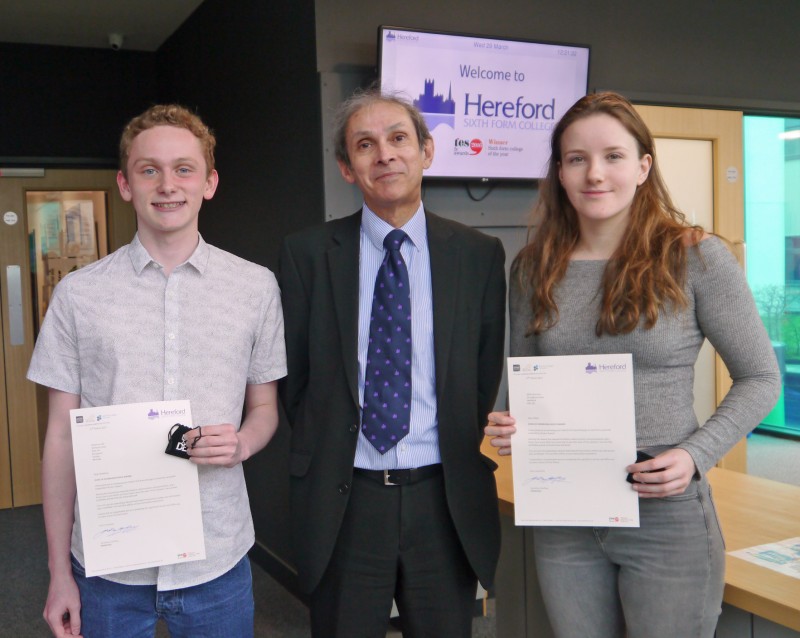 Hereford Sixth From College recently passed a significant milestone with the completion of the 100th Gold DofE Award by its students.
Matt Hill and Millie Boucher received their Gold badges from Principal, Jonathan Godfrey. They will now go on to attend a presentation at St. James's Palace, London, where they will receive their Gold Duke of Edinburgh's Award certificates from a celebrity presenter, in the presence of a member of the Royal Family.
Achieving a Gold DofE Award takes each young person 12-18 months of hard work and dedication. To complete their Award, Matt and Millie had to complete a four-day 50 mile expedition across the Brecon Beacons, as well as completing four other activities including volunteering, learning a skill, participating in a sport and a week long residential.
The DofE is widely acknowledged as the world's leading achievement award for young people, DofE programmes enable any young person, aged 14-24, to develop key skills for life and work, such as confidence, commitment and team working.
Jonathan Godfrey said, "I should like to congratulate Matt and Millie, and all our Gold Award holders on their achievement. The Duke of Edinburgh Award is an important part of the College's enrichment programme and is superbly managed by Mal Mason and his team of volunteers who literally tackle all weathers to support students to gain the Gold Award. To have taken 100 students to this level is a great achievement and a tribute to the dedication of staff over the years and the commitment and hard work of our students."
To find out more about the DofE and how it enables young people to succeed, please visit www.DofE.org