BBC Breakfast Planning Editor Pays a Visit
Posted on 30th November 2015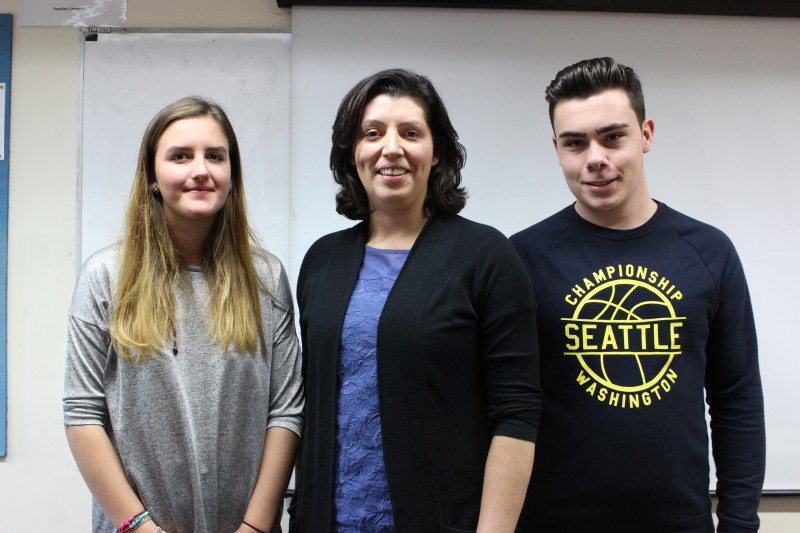 An hour seemed too short for this fascinating insight into the world of television news given by Planning Editor for BBC Breakfast, Sally Watson.
Sally, a former Hereford Sixth Form College student (Anthony Osborne was her form tutor), went on to read History at the University of Cambridge.
Now Planning Editor for BBC Breakfast, Sally is responsible for 23 hours of news production every week.
75% of the news is planned i.e. you know the stories in advance and can prepare. So Sally's job involves planning where journalists and camera crews need to be and what guests need to be invited to discuss the various news topics.
Sally pointed out that as employees of the BBC, the state broadcaster, journalists have to be really careful what they say and give a completely balanced view.
All journalists have to update across all platforms (text, social media, website, radio and TV) and it's now common practice for journalists to use their phones to video when camera crews aren't available.
One of the major events that Sally worked on recently was the General Election – she showed three short film clips which identified some of the different types of reporting on the election (formal, informal and voxpop).
The logistics of broadcasting cost a fortune and it was interesting to hear that there is a pooling arrangement between the three main news broadcasters, the BBC, Sky and ITN. Through this "gentleman's agreement" they share footage so don't have to have camera crews following every story.
Sally explained how election coverage had changed, particularly in the light of Gordon Brown's "Gillian Duffy moment". Election candidates were less likely to meet the electorate unless at a staged event and journalists were being placed on the campaign buses to report instead.
Following some very interesting anecdotes about what went on behind the scenes during the election, Sally went on to mention how things were changing in the world of politics due to the rise of some very strong, new characters.
A short Q&A session followed with one final question from the floor touching on a career at the BBC. Sally said, "Good A Level and degree results help but when interviewing, I look for the potential in a person. Someone with obvious enthusiasm, a real interest in media and a willingness to learn. Work experience in the relevant field is also an advantage. Don't forget, when a job is advertised it means there is a problem that needs to be fixed. You can fix that problem. Work out what they're looking for and show them a solution. This can change an interview entirely."
Abi Preston who runs the Media & Journalism course, thanked Sally for returning to her old sixth form college and those of us who attended certainly gained a greater understanding of the world of broadcast journalism.
Ed.