An Afternoon at Buckingham Palace: The Duke of Edinburgh Gold Award Celebration
Posted on 25th May 2022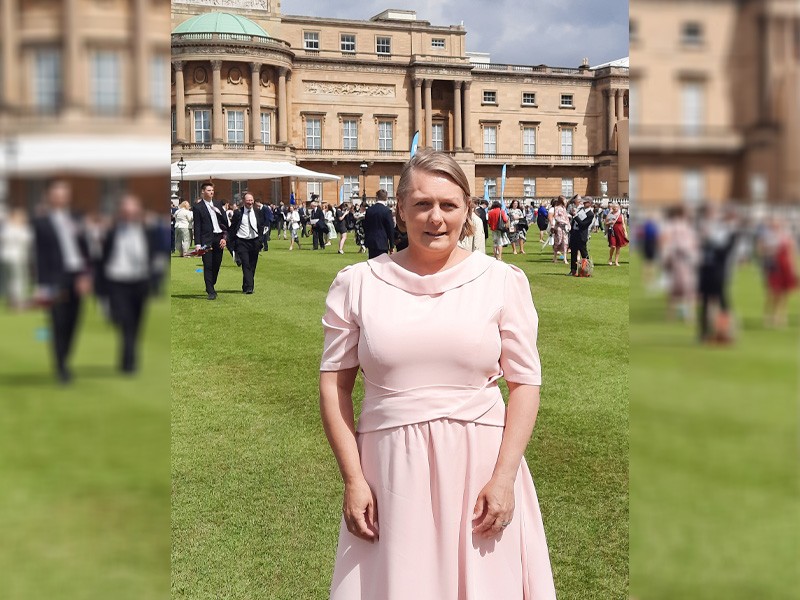 The Duke of Edinburgh Gold Award Co-Ordinator at Hereford Sixth Form College, Kathleen Taylor-Jessup, was recently invited to Buckingham Palace as part of the Gold Award Celebration. Kathleen shares her experience in her own words.
--------
I have been involved with the Duke of Edinburgh Award for the past 20 years or so. In February, I received an email inviting me to a garden party at Buckingham Palace to celebrate the achievements of many young Duke of Edinburgh Gold Award holders.
I had been nominated by my Operations Officer, Wyndham James, as he thought that it was well-deserved, due to the work I do within Hereford Sixth Form College and externally for the Award Scheme.
On the afternoon of Friday, 20th May 2022, I arrived at the Palace as a Special Regional Guest to celebrate the Gold Award Celebration. The morning rain had cleared to leave a lovely warm spring afternoon. I spent the afternoon talking to young people and their families about the experiences they had had on their journey to complete their awards. I lent a hand taking photos as they were all eager to get as many pictures to keep as a reminder of their achievement and the atmosphere of being at the Palace.
Prince Edward, as Trustee of the Duke of Edinburgh's Award, spoke and mingled with the guests and a number of famous alumni and industry leaders shared their achievements and how the skills and experiences of the Gold Award can help on career pathways.
As I enjoyed my tea and cupcake, I smiled as I read the quotes on the memories board from young people about their experiences on their DofE journey. They reminded me of all the conversations I have had at the end of expeditions; the highs and lows and the pain they go through on the expedition but, on reflection, what they got out of it and how these experiences will help them throughout their life.
I enjoy seeing the students who do the Award at College blossom as I support them through their sections and prepare them for the final expedition. The difference from the start to the finish is extremely rewarding.
I thoroughly enjoyed my day at the Palace and although I was a little apprehensive about attending the garden party, I now realise what influence I have had in preparing these young people for the next stage of their lives.
Kathleen Taylor-Jessup, Duke of Edinburgh Co-Ordinator