A Visit from Retired Diplomat Sir Stephen Wall
Posted on 19th January 2015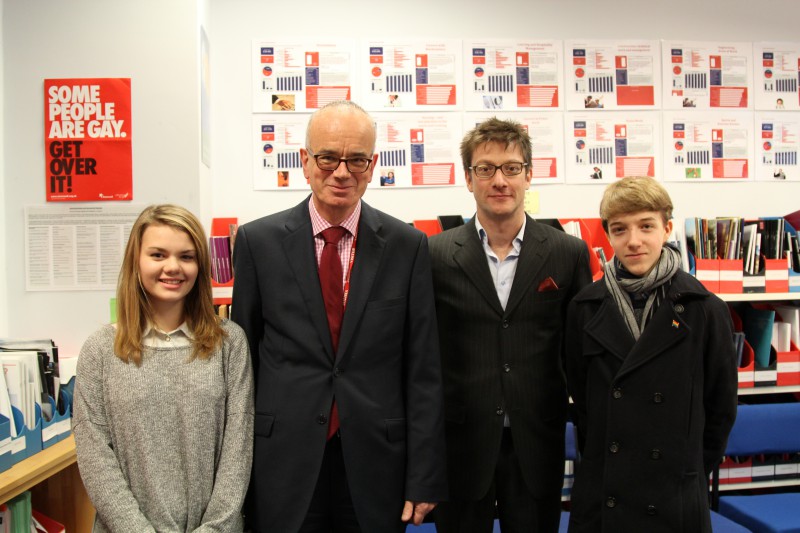 The College was privileged to host retired diplomat, Sir Stephen Wall, who delivered a talk entitled The EU: Past, Present and Future to students from the departments of Politics, Languages and Ethics.
Sir Stephan Wall held several prestigious senior diplomatic positions, including being Britain's Ambassador to Portugal (1993-1995), British Permanent Representative to the European Union (1995-2000) and was an EU advisor to Tony Blair.
Sir Wall began his talk by giving students an overview of the EU's history and described the reasons for the European Union's creation. He explained that after World War II, there was a profound realisation that wars were far less likely if countries are interdependent through international trade and the giving up of a degree of sovereignty.
He then elaborated on differing past and present Prime Ministers views towards a growing trade and political community. He discussed the initial application for the EEC membership in 1961 under the conservative PM Harold Macmillan and the UK's successful entry in 1973 under the conservative PM Edward Heath. He then moved onto the change under Margaret Thatcher and current Prime Minister, David Cameron's view of the EU.
Sir Wall explained his personal views on the EU. He claimed that membership benefits the UK economically, and that by leaving, "we will lose our largest market, our free tariff on exports to EU countries." Secondly, he argued that the EU is a market which has common standards of trade, and it made little sense to leave and have no input on those standards. Finally, he stressed the democratic benefits, in that "the EU requires members to have concrete facets which promote democracy, they must abide by the Human Rights Act which creates a general zone of stability and prosperity."
Students then had the opportunity to ask questions, including whether the EU would move towards a federal state, and what factors would shift the majority of the public's views to being pro-membership.
The students certainly benefitted from hearing Sir Wall's first-hand experience, and learned a lot in a short period of time. The ongoing programme of visiting speakers forms part of a thriving Debate Society with close links to the wider community.
Students will have the opportunity to hear opposing political views in the run up to the 2015 election.
Lucy Thomas (Studying A Levels in: Art, English Literature, Government & Politics and Photography) and Marco Martinelli, Enrichment Co-ordinator and Tutor of Government & Politics