A Trip to Remember: Paris 2020
Posted on 19th March 2020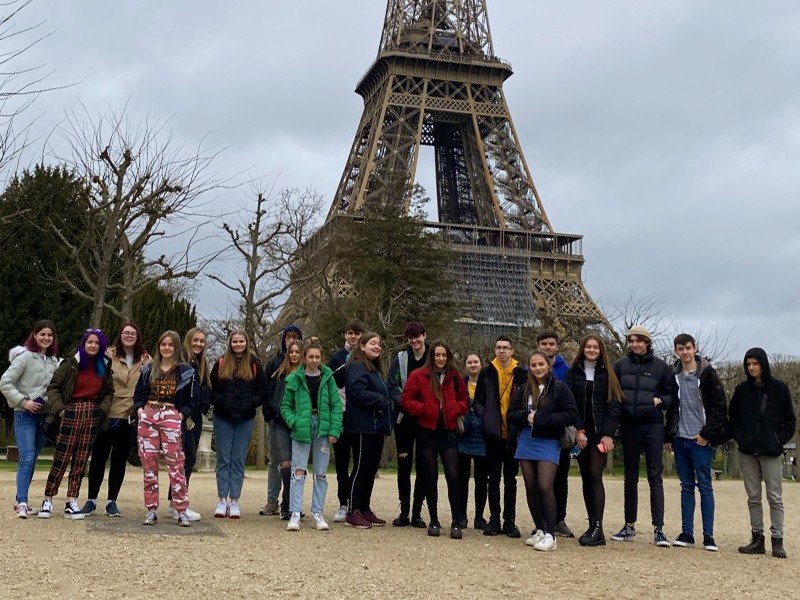 On the 29th February, Media Production and Media Studies students were treated to a trip to Paris. Emma Davies, first year Media Studies student, wrote about the experience here:
Saturday 29th February, I leapt at the opportunity to experience the hype surrounding Disneyland Paris, for myself.
During the Sunday morning, our first full day, we were up nice and early, preparing for our adventures in Paris! In a mini coach journey, our coach driver, Dave, showed us the landmarks of Paris including the devastating sight of a burnt down Notre Dame, the burial location of Napolean and the closed Louvre. We then reached the iconic landmark of Paris - the Eiffel Tower. For just under ten euro's, I accessed the second platform. Tackling a breath-taking 674 steps, I observed the stunning urban views.
After feeling adventurous, we spent the remainder of the day in Disneyland. Stepping into the park for the first time, I remember looking down to notice droplets of fine snow coating the entrance ticket I had been given. It was wintery weather like this, which contributed towards making my experience of Disneyland Paris more magically memorable. Yet, with the Disney fireworks still topping my bucket list, around 8pm that night, bold vibrant sparks invaded the night sky and Disney characters projected onto the iconic castle confirmed my highlight of the trip.
Despite the excitement of meeting Disney characters such as Mickey Mouse and Pluto. As well as feeling the adrenaline rush as I tackled the Tower of Terror the day before, all good things come to an end, with our final full day being topped off with the Media Live! conference. After listening to Maddie Moate, Naomi Sesay and Ashley Berriman talk about their successes within the media industry; I came away feeling inspired, optimistic and positive towards my future. I am better informed as to where a career in media could take me, as well as how to get there.
Emma Davies; studying A Level Media Studies, A Level Art and A Level English Language.