A Report on Improving Mental Well-Being in Colleges Through Physical Activity
Posted on 10th October 2018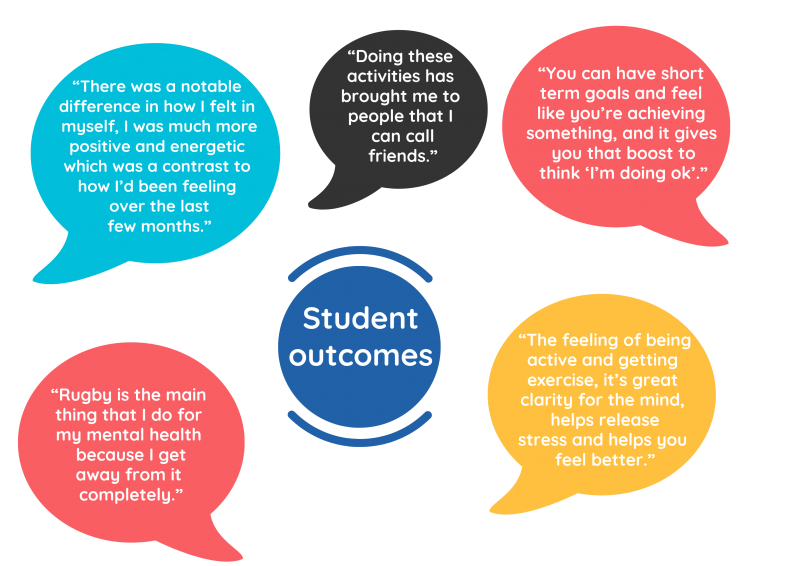 Concerns around the mental health and well-being of students in colleges has been increasing over recent years.
The average college has 185 students with disclosed mental health conditions. In addition to this 81% of colleges have reported having 'significant numbers' of students who have undisclosed mental health difficulties (Association of Colleges, 2017).
In order to put a spotlight on this growing issue, this year's World Mental Health Day focuses specifically on young people.
And to coincide with this theme, AoC Sport has published a report showing that physical activity can help students improve their mental wellbeing.
Kirstie Hickson, AoC Sport Policy and Projects Officer, who ran the project, said: "Over recent years we have heard colleges voice concerns about the mental well-being of their students and we regularly promote the mental health benefits of being active."
"It's great that we have been able to evidence that with this intervention and take learning from colleges doing the work on the ground. Hopefully this will help more staff to feel confident that they can do similar work in their college."
About the Project
The project was focused on using physical activity as an intervention for students with mental health issues or low levels of well-being. Fifteen colleges participated in the intervention, identifying students that needed support and were open to trying physical activity to improve their mental wellbeing. Hereford Sixth Form College was one of the colleges that participated.
The interventions used a range of different activities to engage the students and several colleges focussed on working with each individual student to find an activity they would enjoy and create a 'bespoke' offer, supporting them into options in the college or local community.
Overall the findings from this intervention show that physical activity can support students in colleges to improve their mental well-being. Being active is not the only solution to improving mental well-being and won't work for every individual but it can be effective when delivered with the right support.
The evidence also shows that there are wider mental health benefits to be gained from being active including socialising and learning new skills. Based on the learning from the project we have created a list of key learning which should help colleges when trying to deliver physical activity and wellbeing interventions.
You can read the report here:
REPORT - Improving Mental Well-Being in Colleges Through Physical Activity
Hear what some of our students have to say about the positive impact of joining the College's allActive programme:
Impact - allActive Programme