A Level Results 2020 - Students continue to achieve excellent results
Posted on 13th August 2020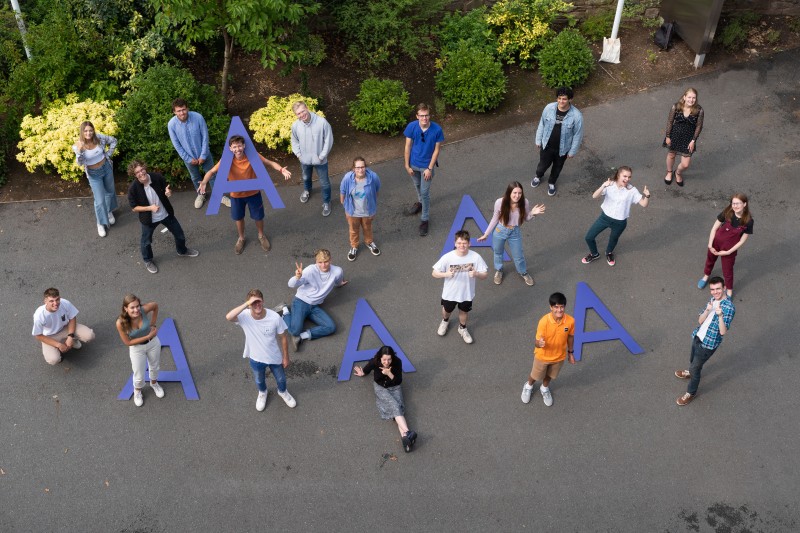 After the strangest of years, some normality returned to students lives at Hereford Sixth Form College as A Level and vocational results were awarded. The College's past track record has a positive benefit for students and results were consequently in line with the excellent standard achieved over the past three years, being in the top quintile in Ofsted terms for A Level. Results were awarded after moderation of Centre Assessment Grades by the examination bodies.
Peter Cooper, College Principal, felt satisfied that most students will have received an excellent outcome from their studies over the last two years, even though changes to the Centre Assessment Grades and the new triple lock system have made the day a lot more turbulent for students and staff alike. "The students should feel a pride in what they have achieved and I am delighted that so many are going on to fulfil their ambitions and potential. The College has a long history of enabling students from throughout the region to improve upon grades they may be disappointed with and we will be running a dedicated one year improvement programme for any students who wish to do this. However, I want to concentrate on the success story that is the progress made by our students in their time with us. We concentrate on preparing them for life's challenges and we have certainly had a good lesson in that. They are better prepared than most for the future and they should go on to universities, apprenticeships and employment with confidence and a strong track record."
A selection of students were invited into College for a small socially-distanced celebration of their time at Hereford Sixth Form College. All were positive and excited for their future. Jess Scrimshire, who achieved A*A*A*A* was delighted with her results and said, "I have been impressed by the standard of teaching and felt I reached my full potential here. The teachers were so supportive and challenged me to do the best I could." Jess will be going to the University of York to study Biomedical Science.
Columbus Layton, who achieved A*A*A*A*A, said, "The content was taught enthusiastically; it was very enjoyable. Where there was a practical element in the course (Chemistry and Physics in my case) the laboratory facilities were well equipped with all the apparatus needed." Columbus will be going to study Chemistry at the University of Oxford.
The Class of 2020 have achieved some excellent results whilst facing extraordinary circumstances. Students should feel proud of what they have achieved at Hereford Sixth Form College and look forward to a successful future.

Pictured: Henry Allman (former King Henry VIII Comprehensive School student); Charlie Baxter (former Whitecross High School student); Logan Bell (former Ludlow CE School student); Anna Courtney (former Five Acres High School student); Seb Dixon (former Hereford Cathedral School student); Bevis Drury (former Bishops of Hereford Bluecoat School student); Max Gunther (former Tenbury High Ormiston Academy student); Matthew Harris (former Whitecross High School student); Harry Hayes; Ewein Howes (former Church Stretton School student); Columbus Layton (former St Mary's RC High School student); Rob Lyon (former Earl Mortimer College student); Imee Marriott (former Malvern College student); Erica Morgan (former Christ College student); Jude Parker (former Weobley High School student); Harvey Sayani (former Croesyceiliog Comprehensive student); Jess Scrimshire (former Fairfield High School student); Georgia Stallard (former Queen Elizabeth Humanities College student); Emilia White (former Crickhowell High School student); Ellie Williams (former Newtown High School student).