A Level Results 2019 - Students Deliver Triple A* Scores
Posted on 16th August 2019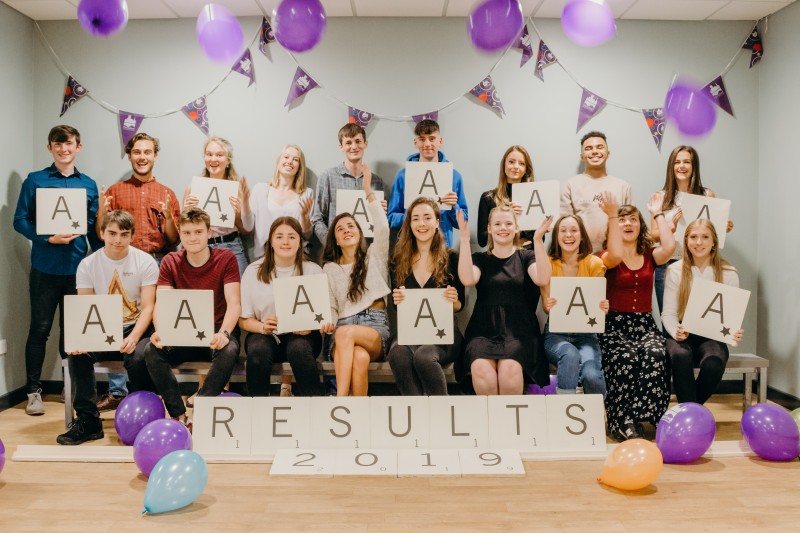 Hereford Sixth Form College was a happy place on this year's A Level Results Day. Strong results above the national benchmark have been a feature of the College for many years and students' performance was again excellent at both A Level and within the increasingly popular vocational courses.
National benchmarks were exceeded in many subjects with particularly strong performances in English, Languages and the STEM subjects including the new vocational Engineering course which had 52% distinctions or above.
Overall pass rates were again above the national averages. The College's pass rate being 99.2% compared with the national average of 97.6%, which is a huge success story.
A remarkable 73 students achieved all A*/A grades with a further 7 achieving 3 grade As or more. These top performers compare with the leading independent and state schools and colleges in the country.
The following students gained 4 A or A* grades:
Alasdair Casperd (ex Crickhowell High School)
Phoebe Cherrington-Walker (ex St. Mary's RC High School)
James Colley (ex Earl Mortimer College)
Rosie Eccleston (ex The Bishop of Hereford's Bluecoat School)
Matthew Glancy (ex Weobley High School)
Callum Hill (ex St Albans RC High School)
Kieran Holland (ex Aylestone School)
Meghan Hopkins (ex Croesyceiliog Comprehensive School)
Emily James (ex King Henry VIII Comprehensive School)
Zachariah James (ex Weobley High School)
Lewis Lloyd (ex Lady Hawkins High School)
Benjamin Morgan (ex The Bishop of Hereford's Bluecoat School)
Shreya Shah (ex The Bishop of Hereford's Bluecoat School)
Elizabeth Steel (ex St. Mary's RC High School)
Harry Tune (ex Whitecross High School)
Sam Watling (ex Hereford Academy)
Amongst some other notable performances were:
Nia Bolland (ex Builth Wells High School) who achieved 5 grade A*s at A Level.
225 students also gained Distinctions in their vocational courses.
Peter Cooper, College Principal, was delighted with the efforts of students. "They have done themselves proud and I am sure they will now go on to build great futures for themselves by continuing the hard work they have shown at the College. I know that they would wish me to thank both their magnificent teachers and the wonderful support staff on their behalf, who are also part of our great success story. We are one big community and achievements like this mean so much to us all."
What the Principal, Peter Cooper had to say...