The Final Sacrifice
Posted on 13th November 2018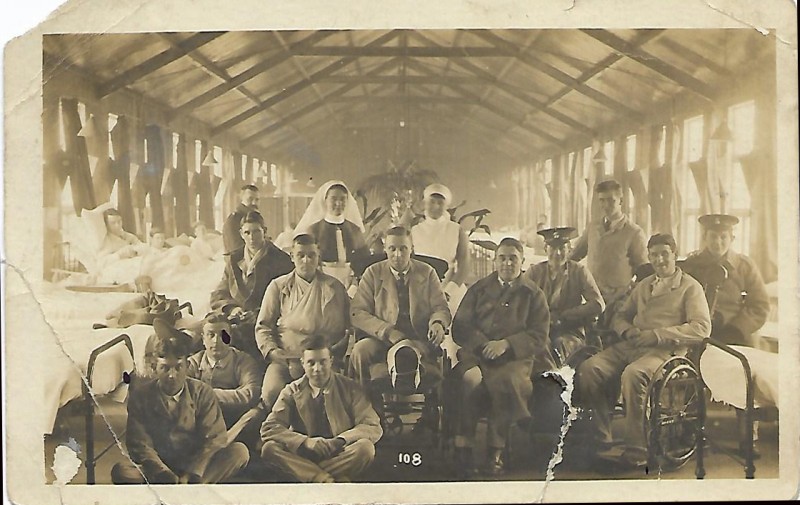 This image is from the First World War and shows Ethan's Great Grandfather in a field hospital after he was injured before he was sent back after his recovery leave. He is the man on the right standing up.
Every year, for two minutes on or around 11th November, we stand in silence for those who have fallen for us: for the boys who never came back from war and for those who came back but were broken, either physically or mentally.
Each year since the age of eleven, I have stood with tears in my eyes, remembering the members of my family who are gone - my great grandfather, whose name I have as my own middle name, and my grandad, who always listened and gave me great knowledge of life. Both these great men were affected by war.
In 1914 my great grandfather William signed up at the age of 17, the same age as most people at College right now, to fight for his country. The horrors he saw were unimaginable, but he survived the war. Having left as a boy, he returned home to England as a man. And then I remember my grandad, a kind and loving soul who, at the age of ten, was pulled from his home to go and live in the countryside as an evacuee.
I also remember at high school in English lessons, we had to read a book by Robert Westall, Kingdom by the Sea, and I recall thinking of my grandad and his time as an evacuee. Again, tears would fill my eyes. Every year at high school we would sing one hymn at the Remembrance Service that would always bring a tear to everyone in the hall, and that hymn was I Vow to Thee, My Country. Two verses are the reason I believe we should remember the fallen: "The love that never falters, The love that pays the price, the love that makes undaunted the final sacrifice".
I am lucky to live my life how I want to now because our future was built on two generations of great men who gave their lives for ours today. So I ask of every generation never to forget the sacrifice that, in my eyes, heroes made, and that would be their final sacrifice for their loved ones. And even though their bodies have long since returned to dust, their sacrifice still lives on. We must strive to cherish their memory and never forget.
Ethan William Bower Protheroe, proud Grandson and Great Grandson (studying A Levels in Biology, Chemistry and Modern History)