Promoting Politics: Green Party Leader Visits the College
Posted on 7th October 2015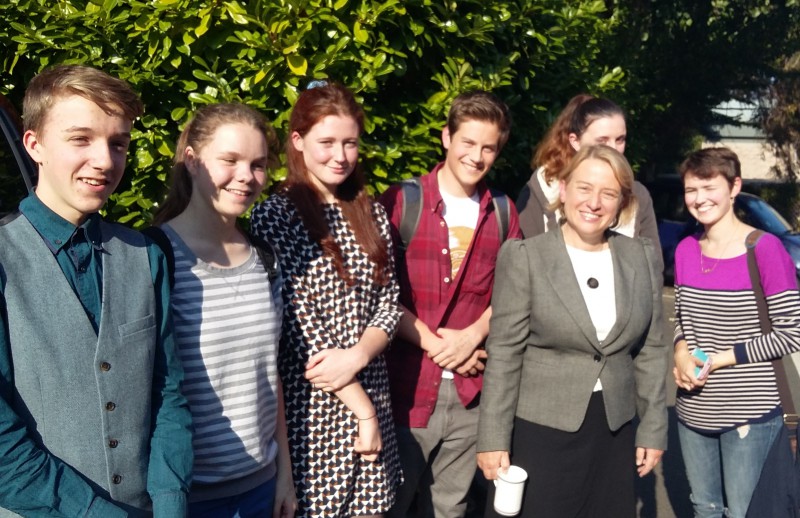 On Friday, 2nd October, Natalie Bennett, Leader of the Green Party, arrived at Hereford Sixth Form College to talk to students, as part of the h.Energy 2015 campaign.
Being the first Party leader ever to visit the College, Natalie Bennett caused quite a stir on campus, with students queuing into the corridor to hear her speak.
She started with an apology for the mess her generation is leaving to ours. Climate change is nothing new, but her sympathy towards student debt and her support for the "Votesat16" Campaign went a long way to winning over the crowd.
Yet, this did not mean when it came to question time that the students held back. The Green Party came under fire for its policies on defence, the economy, and whether it was practical enough, to ever be perceived as more than just a protest party. Despite evasively washing over questions some questions, in regards to policies against military intervention and GM crops, Bennett coped incredibly well with the onslaught. She left us reputation intact and, with some food for thought, particularly on how "austerity is not the answer" and that the Green Party are "not radicals, but realists".
Ruby Spink, a Government and Politics student, commented: "Natalie Bennett's speech connected with me, it felt personal and she clearly defined each policy without patronising us. She dealt with questions without hesitation clearly answering each query."
"It's easy to feel detached from politics, but the Green Party's policies regarding young people were impressive- I've definitely been inspired to consider voting Green."
Young adults are often perceived as being politically isolated, but Bennett has reached out to and enthused students at Hereford Sixth Form College as the next generation of voters, not that everyone will be supporting Green.
Cara Exall (Studying: AS English Literature, AS Government & Politics, AS Mathematics and AS Modern History)