Never Again
Posted on 24th April 2017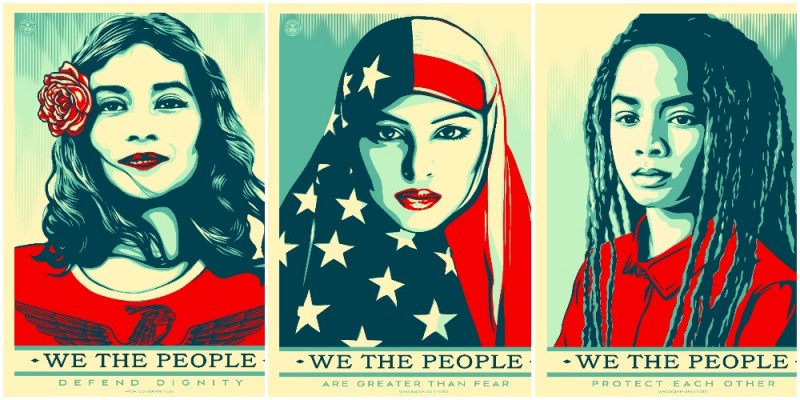 Image credit: http://www.openculture.com/2017/01/download-print-free-shepard-fairey-protest-posters-for-the-trump-inauguration.html

On 20th January 2017, when Barack Obama left the White House, he was replaced with President Donald Trump. Despite the huge number of policies in Trump's mandate, the ones that stand out to me the most are those that discriminate against others. For example, his Muslim ban and the wall to prevent Mexican immigration.
America has a culture founded against oppression yet is at risk of oppressing others. At times like these, I believe it is important to remember those that have fallen and think about how it should never happen again, not just in America, but across the globe.
In 1976, 12 year old Hector Pieterson was killed in an uprising in Soweto, Johannesburg. The revolt took place because of the inequality in South Africa, where black people were treated so much worse than those with white skin. When I travelled to see the memorial for myself, the man who explained the young boy's story spoke with such pride and finished his speech with the statement "Never again."
The words rang in my ears and reminded me that this only happened 30 years ago. This was happening when my parents were alive. This wasn't long ago at all. When I used to think of bloodshed over discrimination, I thought of it as a thing of the distant past, but it is really not.
Consequently, although this is not the recent history of America, it is recent history and could easily take place anywhere where discrimination happens. It is important to learn about history to make sure it doesn't happen again, and with the new discriminative actions that have been put in place by Trump, it is important to remember the horrors of the past more than ever.
Never again.

Eleanor Crump (Studying A Levels in English Literature, Government & Politics and Modern History)