Krampus: The Central European Anti-Santa
Posted on 12th December 2018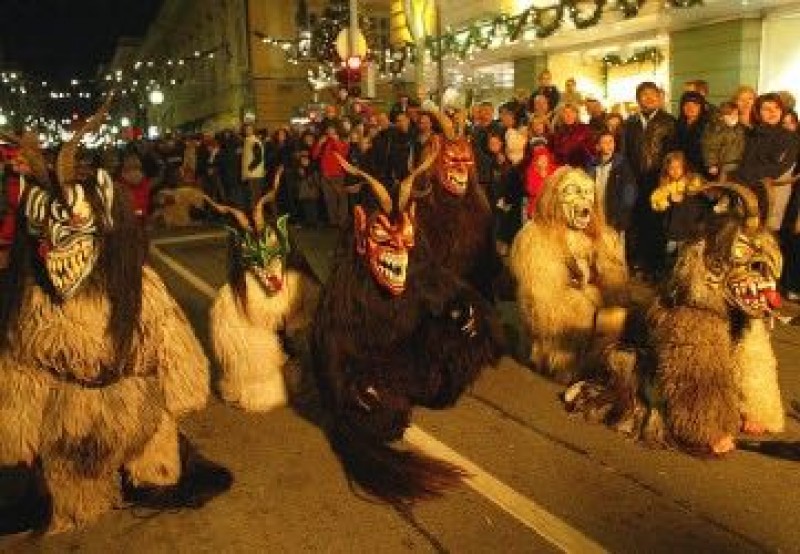 Credit: http://heatst.com/world/creepy-eastern-european-version-of-santa-krampus-actually-hits-people-with-sticks/

When it comes to British Christmas tradition, the only consequence that befalls naughty children is receiving a piece of coal in their stocking; either that or having to help do the washing up after Christmas lunch.
However, in Austria and many other Central European regions, misbehaving children may potentially be visited by Krampus; a 'half-goat, half-demon' gure who punishes mischievous kids during the festive season. The dastardly gure originated in German folklore dating back to the 1600s and is believed to be a foul accomplice of Saint Nicholas. As they make their earthly journey, Santa delivers presents to worthy infants while Krampus punishes undeserving kids.
Ever since I learnt this fact, I've spend quite a lot of time wondering who calls shotgun on the front seat of the sleigh. Krampus is older than Jesus and was born out of an Alpine Pagan tradition as a 'boozy goat-horned menace that whips children around Europe', and whilst Santa rewards the nice children, Krampus punishes those who have strayed from the path of good.
In terms of Krampus' methods of punishment, he adopts a range of techniques to help get his message across, from ripping pigtails out and sadistic ear pulling to leading children o cli s and drowning them in ink before shing out their corpses with a pitchfork. Why Santa would make such a person his companion is still unknown to me.
Between 1934 and 1938, during the period of time when Austria was under fascist rule, Krampus was seen as a symbol of anti-Christian ideals and sin. At the time, the Catholic Church banned the wild celebrations, such as Krampus processions, and fascists found the gure disgraceful because it was considered a creation of the social democrats.
Today in places like Germany and Hungary, a modern take on the tradition involves drunken men dressed as devils, who take over the streets for the annual Krampuslauf and chase people through towns and cities.
For adults who don't live in Central European counties, Christmas can be stressful enough as they try to organise presents, food and sleeping arrangements for their extended family as they all ock to share in the festivities. However, considering that Austrian kids are being hounded by a festive goat demon who wants to violently pull their ears, I think we can agree we've all got it pretty easy over here.
Jude Parker (Studying A Levels in English Literature, Government & Politics and Modern History)