Hereford Protesters Trump Message of US President
Posted on 28th March 2017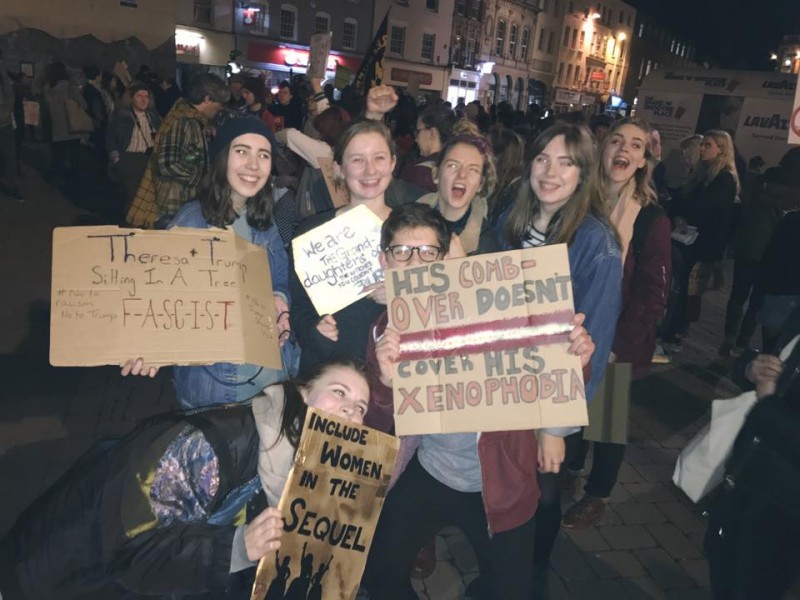 Photo credit: Adam Hill

"Love, not hate, makes the UK great!"
This was just one of the many messages being shouted by protesters marching across Hereford on the evening of Monday, 20th February against the recent executive orders of the US President, Donald Trump. Overall, around 500 people including many Hereford Sixth Form College (HSFC) students turned out to demonstrate their frustration at the recent plans, especially those enforced on migrants travelling to the USA signed by Trump.
Meeting at the Bull statue (next to the Black and White House) in Hereford town centre, event organiser and mother of one, Bek Pek, was at the head of the demonstration helping the crowd through town, eventually leading the party to their final destination, the Old Market.
After the event, she explained that the experience had been "so special" because of "the positivity and compassion shown by the crowd." She decided to organise the protest "because I wanted to have a voice of my own." Speaking to her supporters with a megaphone in a powerful address, she said, "Let's keep on being the change we want to see in the world and make this the beginning of real community action in Hereford."
Talking to one of the protesters, Anna Ricks, a first year HSFC student, it was clear to see the passion of those demonstrating. She told me, "It's really empowering to see solidarity from so many people. It's wonderful that we are standing with those affected by Trump."
And the protest wasn't just about opposition to Trump's presidency. It also took on the subject of migration to the UK, with condemnation to recent government plans to crack down on the amount of migrants allowed into the UK. Among the protesters' messages was: "Respect existence or expect resistance".
The protest didn't come without its own issues. According to passers-by, there was some abusive language from local pub-goers as the protest turned onto Widemarsh Street, but this didn't turn out to be a major issue.
So, after all, love does trump hate, and this is certainly the message being given out not just by protesters of a quiet countryside city, but of many other like-minded individuals in cities and countries across the globe.
As the Student Voice newsletter went to press, a silent vigil was being planned for Wednesday, 15th March at the statue in High Town, Hereford, to mark the day that UK PM Theresa May ended the UK freedom of movement.
Keep up-to-date on Bek Pek's Facebook page for further details of future protests.

Owain Denning (Studying A Levels in English Language, French and Philosophy & Ethics)