Help Feed the Need this Christmas
Posted on 15th November 2016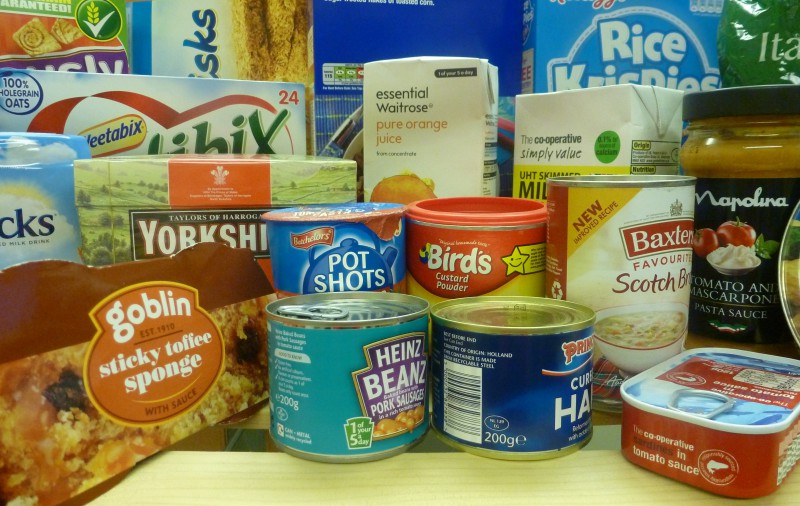 Photo credit: http://www.alsagerfoodbank.org.uk/food-donations/
Why your food bank needs you!
Preparations for this year's annual festive season are already well under way in supermarkets and people's homes across the country. Christmas presents lists, shopping lists and decorations are only the start of the festive fun for many.
But how, at a time like Christmas, do those less fortunate in our county cope with the growing demands - and expectations - of the festive period? Well, that is exactly what I went to find out a couple of weeks ago when I visited the Hereford Food Bank on Aubrey Street in Hereford town centre. Run by the Cathedral and its independent trustees since 2008 and supplied by local supermarkets like Tesco (which has been working with Hereford Food Bank for around three years) as well as donations from the public, this food bank aims to serve the less privileged of Herefordshire, not just at Christmas, but throughout the year.
Around 40 volunteers work at the food bank, roughly equating to ten per week, each taking different shifts, each shift usually lasting for a couple of hours at a time. They re-stock food, sort orders for food bank users and generally keep the place going. In the short-term, the food bank aims to get people back on their feet in times of hardship. "There is no one particular type of person the organisation helps," a dedicated volunteer at the food bank tells me. Some may be homeless, some on benefits, others have ill health. They have all kinds of needs and they don't have cash to buy food. And that's why the food bank operates a four-hours-a-day service, Monday to Friday each week.'
Food-wise, is the bank that supplies those in need with many essentials such as tinned meat, tinned fruit, fresh bread and eggs, and it doesn't stop there. They also provide personal care items such as toothbrushes, soap and other cleaning products that we all take for granted.
There are many food banks and hot meals services operating across Herefordshire which are always on the look out for volunteers – see the list below. If it seems like something you would like to do, get on down to your nearest food bank to see if you can help! "We're here to help" says one of the volunteers I met and, of course, he and his colleagues can only do that with extra help and support from new volunteers.

Even if you can't volunteer, you can donate non-perishable goods at your nearest food bank collection points – look out for them in supermarkets such as Co-Op and Tesco. For example, Tesco's Bewell Street store is always looking to take in donations of tinned foods and dried goods which it then uses to supply Hereford's food banks.
By the end of 2017, all Tesco stores nationally, regardless of their size, will be donating surplus food to their local food banks via its Food Connection service - Bewell Street already supplies Open Door and Hope City with food (see below). And since 2012, Tesco customers and colleagues across the UK have donated around 38 million meals to support those in need… as they say, every little helps!
Where are Hereford's food banks?
Anyone requiring assistance from food banks/meals services must first go through a fair process first to determine eligibility for help.
Here are the local food banks and food assistance organisations in Hereford and their addresses:
Christian Life Centre (Martha's Kitchen)
133 Edgar Street, Hereford, HR4 9JR – offers help, support and hot food. Email: mcgowanrm@gmail.com
Hereford Food Bank
Unit 5, 32 Aubrey Street, Hereford, HR4 0BU – offers a variety of non-perishable foodstuffs. Email: herefordfoodbank@rocketmail.com
Hereford Open Door
3 Bedford Street, Hereford, HR4 0DR – this organisation gives food parcels on the days it is open. Email: mikewilkinson437@live.co.uk
Hope City Church
Union Walk, Hereford, HR1 2AF – offers foodstuffs. Email: mprice@hopecitychurch.org.uk
St. Martin's
89 Ross Road, Hereford, HR2 7RJ – general food bank offering a wide range of tinned goods. Email: sm@ranyard.plus.com
St. Peter's Sunday Take-away
St. Peter's Square, Hereford, HR1 2PG – Serves hot food. Email: b.pain@talk21.com
St Peter's Winter Shelter
St. Peter's Square, Hereford, HR1 2PG – provides temporary accommodation along with hot food and beverages for those who need it. Email: j.butterfield@googlemail.com
Salvation Army
Canonmoor Street, Hereford, HR4 9JJ – offers foodstuffs, advice and support. Email: hereford@salvationarmy.org.uk
St Paul's Homeless Services St. Peter's Square, Hereford, HR1 2PG – offers help, advice and a variety of non-perishable foodstuffs, hot and cold. Email: AnnieDoherty@stpaulshostel.co.uk
Owain Denning (Studying A Levels in English Language, French and Philosophy & Ethics)