Climate Change Awareness Day
Posted on 12th December 2018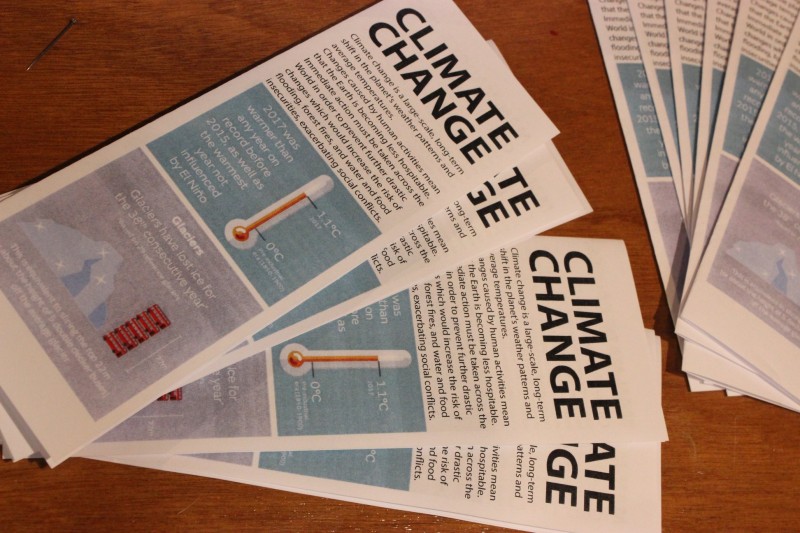 What do you think of when you see the colour green? Is it just another colour on the spectrum for you, or does it hold a greater significance?
For many, the colour green is commonly associated with the natural world, the environment - or deeper meanings such as rebirth and vitality. (Or even aliens, if that's what oats your boat.)
You may have been aware that many people were wandering around College wearing items of green clothing, and the College seemed decked out in green a little more beyond the Christmas trees, all for an absolutely brilliant cause: climate awareness.
The Environment Group and Food & Sustainability Group merged on 11th December to put together what resulted in an incredibly informative and engaging day, with the importance of getting people to recognise and talk about climate change at the heart of its agenda.
Students were encouraged to wear green to College on the day,
achieving a lovely splash of green throughout a typically British and gloomy weather forecast.
Members of both groups showed an admirable dedication to the cause - including the making and handing out of leaflets, helping collate display boards and discussing their own views upon the issue of climate change with other students.
From speaking to those involved it became apparent that although climate change is regarded by many as an issue, a lot of people felt unaware of its urgency - with a collective view that such an issue needs to be addressed extensively in the future.
There was also a common view throughout the student body that more information on the issue should be made available through College, as a part of their education.
The day itself delighted in great success, but it is clear that there is a long way to go in terms of making awareness and change - and this doesn't have to be as daunting as it sounds.
For example, resources on climate change are available within a section in the Library - including the films shown throughout the event, meaning content is easily accessible.
If you are passionate about creating awareness on issues including climate change, how about attending either of the two groups involved? For any queries about the Environment Group contact Jane Godfrey: jeg@hereford.ac.uk or mgh6659@hereford.ac.uk and for any queries regarding the Food Choices & Sustainability Group contact Sue Segust: ss@hereford.ac.uk.
Morgan Bishop (Studying A Levels in Classical Civilisation, Government & Politics and Photography)