Virtual Open Event
Date: Wednesday 17th June 2020
Time: 11am-1pm
Venue: Online
If you have your sights set firmly on university and beyond, Hereford Sixth Form College offers an exciting experience for you to discover. We are holding a Virtual Open Event Wednesday 17th June at 11am - 1pm for you to find out more about our facilities and the subjects you are interested in online and via our virtual chatrooms.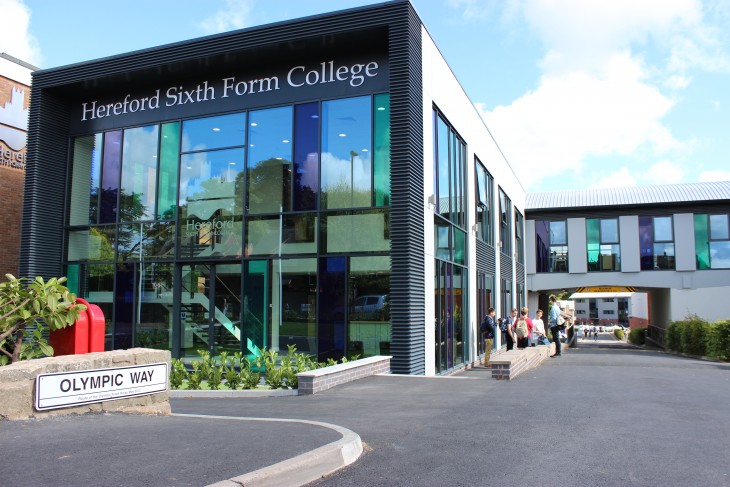 Hereford Sixth Form College
What is a Virtual Open Event?
Hereford Sixth Form College is bringing you an opportunity to visit us from the safety of your own home. You can ask our tutors and many other Sixth Form staff questions that you might have which will help you find out more about our fantastic College.
Our Virtual Open Event will allow you to access:
A video from our Principal, Peter Cooper, giving an informative talk about the College
Links to all of our subject areas
Online application links
Access to live chatrooms with subject tutors and staff
Information on careers advice, additional learning support, transport, enrichment activities, sporting academies, pastoral support and guidance, and more.
You must register for the Virtual Open Event on Eventbrite to access the above.
Please click on the video below to hear from our Principal, Peter Cooper.
A word from the Principal
To find out more about life at Hereford Sixth Form College, visit our Youtube channel, or view our Virtual Open Event video playlist.
If you haven't registered to join our virtual Open Event, please register below:
Wednesday 17th June, 11am - 1 pm
This event has now finished. Thank you to everyone who attended.
Virtual Chatrooms
The following subjects and staff will be live in our virtual chatrooms for you to find out further information about the subjects and the College:
Subjects
Other Areas
Vice Principal – for any additional queriesAdmissions Officer – for any admissions queries
Careers – for any Careers advice
Early Applicant Coordinator – Oxbridge/HE+/Reach Programme
Applications for Medicine/Dentistry/Veterinary
Extended Project Qualification (EPQ) Coordinator - for any EPQ queries
Mathematics 4 Life
Transport
Bursary
Learning Support
Pastoral Support & Guidance/Wellbeing
Level 2 / GCSE Coordinator
The Library
Performing Arts Academy
Sport Academies (Basketball, Football, Hockey, Netball, Rugby)
allActive Sporting Coordinator – Additional queries about sport at Hereford Sixth Form College
If you have already applied to Hereford Sixth Form College and would like to discuss any details of your existing application or offer please email our Admissions Officer, Rhuna Young – rly@hereford.ac.uk.
Please note our live chat sessions with our teachers will not be available outside of the advertised open event date and time.
Be inspired by talking to our teachers at our Virtual Open Events. We look forward to speaking to you soon!
We hope you enjoy our Virtual Open Events. To apply, visit our online application form; we would love to have you join us in September.
Virtual Open Event FAQs
What can I do at an Open Event?
Whether you've already applied or have no idea what you want to study yet, our virtual Open Events are perfect for you! You can get a real feel of student life by talking to our tutors, listening to our Principal talk about Hereford Sixth Form College and more. Tutors will also be on hand to explain in depth about courses and our Student Services team will also be available to offer advice on careers, transport, finance, wellbeing and more. You can also chat to our admissions team about your application.
Do I have to be there for the duration of the event?
Of course not! You can drop in at any time and stay for as long or as little as you wish.
How do I apply for a course?
Staff are on hand to help you with any questions about your application. You can apply online.
Do I have to pre-register to be able to come?
Yes, you will need to pre-register to receive your information on utilising our virtual chatrooms sections. This means you will then be able to chat to our teachers who will be available between 11am and 1pm on our advertised dates.
Does my entire family have to pre-register?
No, only prospective students are required to register to attend our Virtual Open Event.
Got a question that's not been covered?
No problem! Just email Phil Tranter – Vice Principal with your query – pjt@hereford.ac.uk