Music Scholarships
Music Scholarships are awarded to students who pass an audition, and who are prepared to commit to a programme of advanced specialist training. Any student can apply for these scholarships, whether or not they are studying Music at A Level.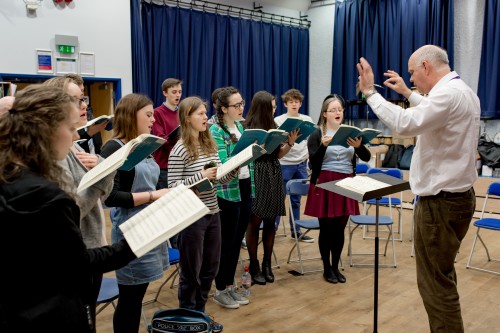 Choir rehearsal in the performance studio
Choral scholarships
This award is designed for students who have a particular aptitude for singing (normally Grade 5+).
Successful applicants form the Academia Musica Choir and are provided with advanced choral training. You will have access to singing lessons, music theory classes and a book allowance for the purchase of vocal music.
The Academia Musica Choir have a recording contract with Priory Records, broadcast on the BBC and have worked with professional ensembles such as the English Symphony Orchestra and Oxford and Cambridge university choirs.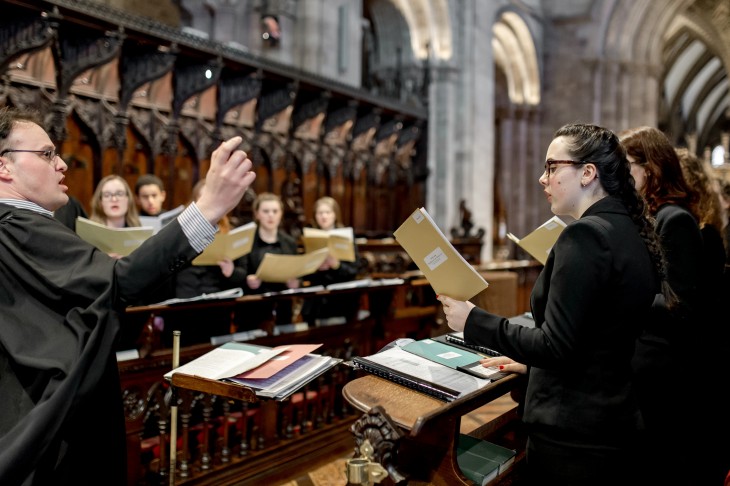 The choir in Hereford Cathedral
The choir regularly perform concerts, recitals and evensongs throughout the year, including national
and international venues.
The training that students receive significantly develops the sight-singing and musicianship skills that are required in the profession.
Instrumental scholarships
This award is designed for advanced instrumentalists (normally Grade 5+).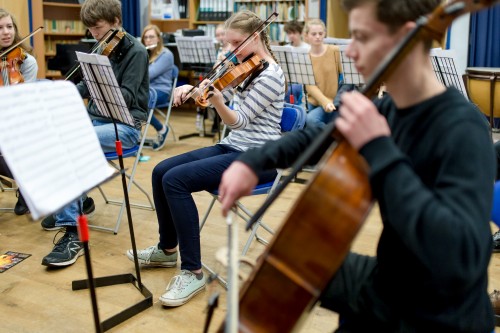 Orchestra rehearsal in the performance studio
Successful applicants receive advanced instrumental training and form the Academia Musica Orchestra, where they regularly perform alongside representatives from the profession.
The instrumental programme is modelled on the kind of training that you might initially receive at a university or conservatoire.
Scholars have worked with the English Symphony Orchestra and representatives from some of the best conservatiores.
Scholars also take responsibility for preparing themselves and others for the Student Recital Series.
Instrumental Scholars receive have access to instrumental tuition, music theory classes, and a book allowance for the purchase of instrumental music.
Tara talks about the Instrumental Music Scholarship
Academic music scholarships (AMusTCL Musicology Diploma)
Academic Music Scholarships are awarded to applicants who successfully demonstrate an advanced level of academic potential. Applicants normally have a minimum of Grade 5 in Music Theory and must also be enrolled on the Music A Level course.
Academic scholars receive extra lessons each week in advanced musicology and are submitted for Grade 6, 7 and 8 in Music Theory, and the Trinity College Musicology Diploma.
This course is equivalent to the written component of a first year university degree and is designed for the most able musicians. In addition to specialist tuition, Academic Scholars have access to a book allowance for the purchase of course-related materials.
The course is assessed entirely through examination and includes questions on advanced harmony and counterpoint, score analysis and a range of historical subjects. On successfully passing the diploma, students are entitled to affix the letters AMusTCL after their name.
Download a Music Scholarship application pack
Music Scholarship application form