Music Scholarships
Music Scholarships are awarded to students who pass an audition, and who are prepared to commit to a programme of advanced specialist training. Any student can apply for these scholarships, whether or not they are studying Music at A Level.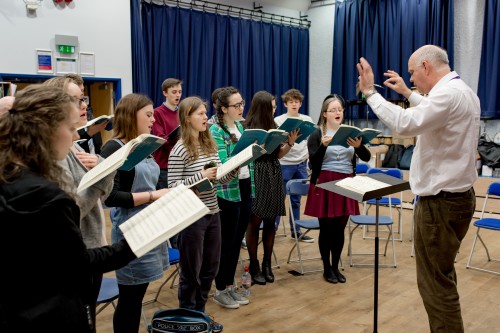 Choir rehearsal in the performance studio
Choral scholarships
This award is designed for students who have a particular aptitude for singing.
Successful applicants form the Academia Musica Choir and are provided with advanced choral training. You will have access to singing lessons, music theory classes and a book allowance for the purchase of vocal music.
The Academia Musica Choir have recently recorded two CDs with Priory Records, broadcast on the BBC and work with professional ensembles such as the English Symphony Orchestra and and choirs such as Selwyn College Choir, Cambridge.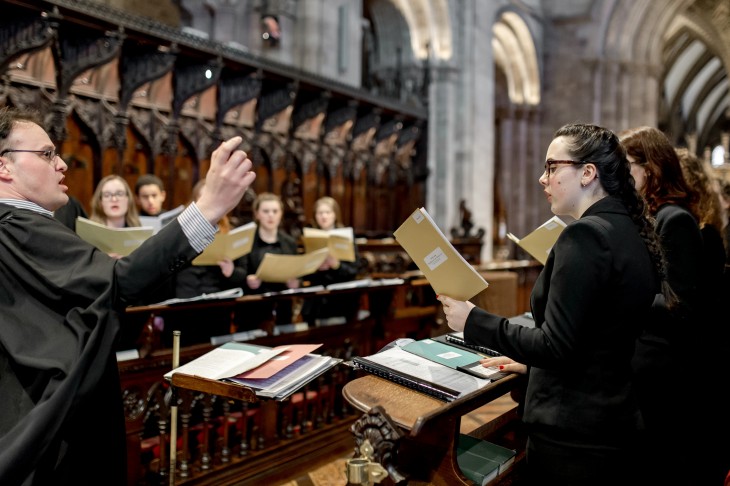 The choir in Hereford Cathedral
The choir regularly perform concerts, recitals and evensongs throughout the year, including national and international venues. Most recently, they have visited Belgium, Germany and Ireland.
The training that students receive significantly develops the sight-singing and musicianship skills that are required in the profession and as freelance singers.
Instrumental scholarships
This award is designed for advanced instrumentalists (normally Grade 5+).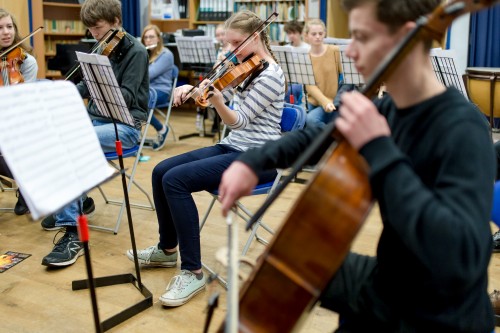 Orchestra rehearsal in the performance studio
Successful applicants receive advanced instrumental training and are involved in chamber music of all genres. You will also have access to music theory classes, and a book allowance for the purchase of instrumental music.
Previous scholars have worked with the English Symphony Orchestra and representatives from some of the best conservatiores.
The College launched the new instrumental programme in September 2017 and it is continually developing. In the first year, the scholars were able to form a string quartet and several wind ensembles. With the assistance of some of the choral scholars, there were also performances of vocal pieces with instrumental accompaniment.
Next year will see us branching out to enable us to put together rock and pop ensembles and jazz groups, so advanced players of all instruments and in all styles are encouraged to apply.
There is no full orchestra at the College, so students are strongly encouraged to get involved with Herefordshire Youth Orchestra and the other ensembles run by the Herefordshire Music Service.
Download a Music Scholarship application pack
Music Scholarship application form