Music Ensembles
Performance
Concert performances are a significant part of College life. Not only do we produce a range of in-house recitals and concerts, but we frequently perform in some of the best venues locally and abroad. There are regular international tours and we aim to provide a challenging and inspiring approach to performance training while giving opportunities to students of all abilities and experience.
We have links with professional musicians, both local and international, and provide connections between students, universities and industries throughout the year.
There is a programme of trips to professional concert halls and you have the opportunity to see the work of some of the best musicians and ensembles. We provide substantial support to students aiming to apply to music colleges and universities.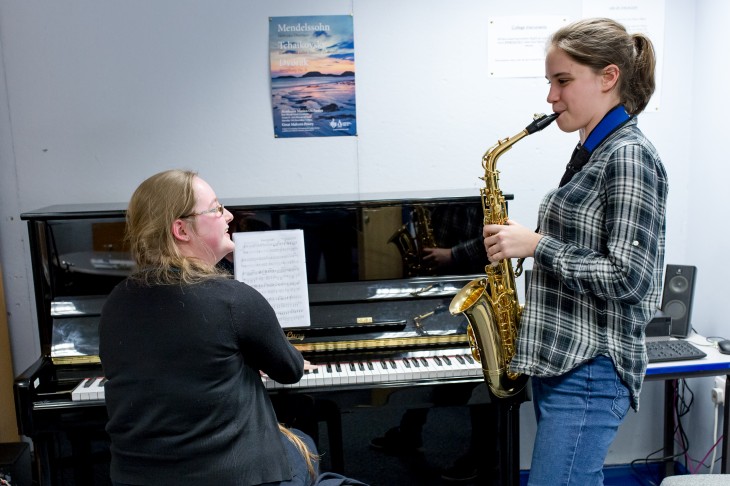 You are encouraged to develop your own ensembles and we have a programme of training for student led recitals that allows you to take leadership roles under the guidance of professional musicians.
Through our programme of clubs and ensembles there are opportunities for all students in College to be creative, challenged and inspired, regardless of your previous experience.
The College Choir
Whatever your singing background, you will find the College Choir to be a challenging, welcoming and friendly place to be.
The choir normally performs one large choral work each year, and recent performances have included:
Handel, Coronation Anthems.
Parry, I was Glad and Blest Pair of Sirens.
Finzi, Lo the Full Final Sacrifice.
Walton, The Twelve.
Works by Edward Elgar.
Works by Benjamin Britten.
The choir also sings festive music in the College Christmas events.
Concert Band
The Concert Band is a traditional wind band that plays music from stage and screen, medleys of popular music and classic marches.
It is open to wind and percussion players, and has toured many cities in Europe and Canada.
Lunchtime Recital Series
Every week there is an opportunity for students to attend or perform in College recitals, whether as a soloist or in ensemble. This is a great opportunity to try new works and is a forum for students to perform with their own bands and ensembles, or to exhibit their own compositions in a really comfortable and supportive environment.
Some of the best performers also perform in public recitals, promote their groups as small businesses, and some decide to compete in either local, national or international competitions.