Performing Arts Academy and National Youth Theatre Auditions
The Performing Arts Academy (PAA)
Are you seriously interested in developing and improving your acting skills? If so, the Performing Arts Academy is for you.
If you are thinking of a drama degree course or career, the Academy will stretch and challenge you; if you are just starting out but want the opportunity to gain a professional standard in acting, the journey begins here.
Sessions involve student led workshops and specific acting techniques relating to the preparation of a professional standard audition. Professional standards of practice and industry etiquette are adopted. We work towards an Easter 'cabaret style' showcase of material and enter additional material in the Hereford County Drama Festival.
Entry into the Academy is based on an audition.
Successful applicants are offered professional level drama training with specialist acting coaches in addition to your academic timetable for one extra hour a week. You will also have specialist training workshops in voice and movement skills by visiting professionals to the College.
Students will be entered for Trinity Guildhall Acting grade 6 or 8 exams, depending on ability and experience. Second year students can attempt the ATCL diploma.
The Performing Arts Academy is unique to Hereford Sixth Form College.
Please contact Lauren Williams, Drama & Theatre Studies Tutor, for more information about auditioning for the PAA.
PAA Students Have Opportunities to Gain Industry Experience
Academy students recently auditioned for 'real life', paid, film roles for the British Council.
Students Izzy Harrison and Lee Quirk were selected - see photos below of their experience during a week of filming over October Half Term 2015.
Other Theatre Studies students were also used for an additional British Council project about the Magna Carta. They were Sarah Brice, Jack Chambers, Matthew Jones and Leona Small.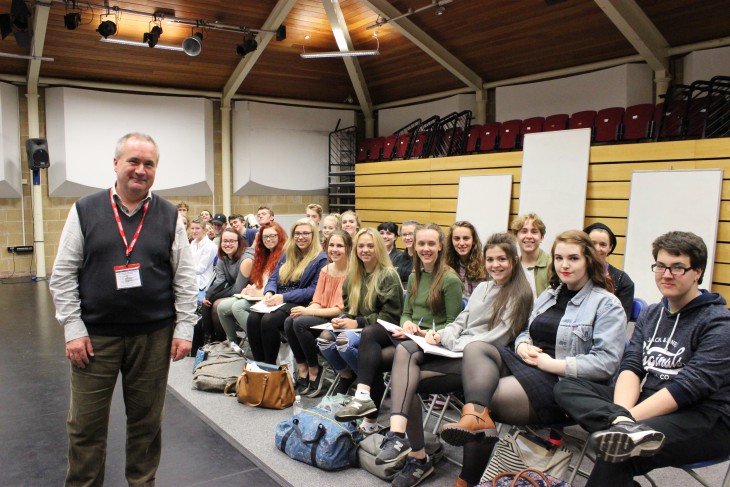 Pictured: Guest speaker, Paul Rummer, Principal, Bristol Old Vic Theatre School
The National Youth Theatre
The NYT is widely regarded by theatre professionals as the leading institution in the world for training young actors.
As the understanding of what the NYT can offer has grown, so has the number of applicants. Hereford Sixth Form College enters more students for NYT auditions than any other school or college in the country and has a significantly higher audition success rate. In recent years, over thirty students have been accepted as members, with a significant number participating in NYT productions.
All PAA students will be coached through audition speeches for the NYT.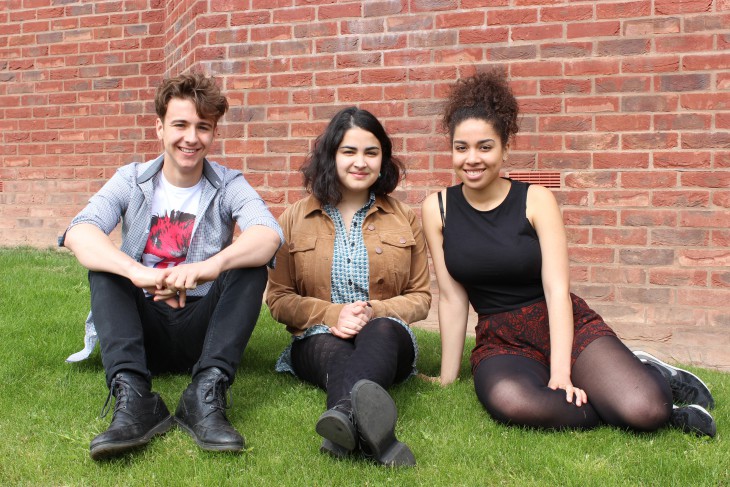 Pictured L-R: Fred Thomas, Nia Gandhi and Lily Stubley-Adje who successfully auditioned for places at the NYT in 2016
Performing Arts Academy
Sorry, we are having some problems with our contact form.
Please email sixth-form@hereford.ac.uk directly