College Productions - Drama and Musicals
Hereford Sixth Form College has an outstanding reputation for highly acclaimed and professional standard productions. In recent years these have been large cast musicals, large cast plays, smaller scale student directed productions and more intimate, experimental performances. There are many opportunities to take part, whether you are an actor, singer, dancer, someone who is capable of all three, or someone interested in getting involved in lighting, sound, set design, costume and make up.
Our productions are open to audition for all students, regardless of experience or subjects studied. In previous years more than 200 students a year have been involved. Rehearsals take place on Wednesday afternoons during enrichment time and during two evenings a week. Professional workshop specialists come in to college to provide vocal and movement training for these performances
The productions are great fun and a truly rewarding experience, helping you to develop your performance skills and to meet and make new friends. They are a central part of life at the College and being involved in one, in whatever capacity, is an excellent point to have on your CV.
The December 2017 production is Much Ado About Nothing.
In previous years, we have produced a run of hugely successful, sell out musical theatre and drama productions. The autumn term production. either a whole college musical or a Shakespeare play, is one of the centre pieces of the College year.
Recent musicals have included Evita, Guys and Dolls; Return to the Forbidden Planet; Joseph and the Technicolour Dreamcoat; Sweet Charity; Jesus Christ Superstar; Cabaret; Sweeney Todd, The Demon Barber of Fleet Street; and The American Musicals Showcase.
Recent drama productions have included Macbeth, The History Boys, Our Town, Romeo and Juliet; Frankenstein; A Midsummer Night's Dream; Teechers; Gregory's Girl; and The Trial.
Cabaret evenings of music and comedy, stand up and sketches also take place.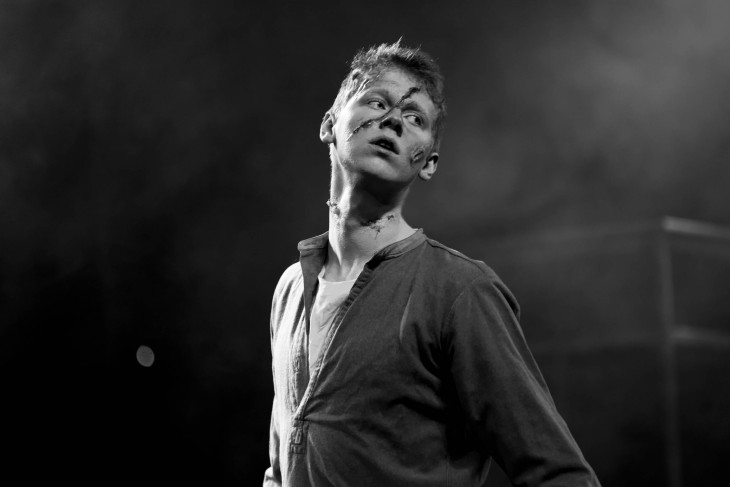 Frankenstein's creature